Special Report from June 2009 Newsletter
Pala International Celebrates Forty Years
Looking Back, Looking Ahead
June 26, 2009 marks Pala International's fortieth year as an enterprise—encompassing mining, wholesaling of colored gemstones, jewelry and lapidary design and sales, and, of course, fine mineral specimen offerings. Here are some of the highlights…
The Early Years: Pala Properties International
Under the co-direction of Bill Larson—himself a protégé of famed San Diego county mineral collector and curator Josie Scripps—Pala began life as Pala Properties International (PPI) in 1969. The venture was a partnership between Larson and fellow Californian Ed Swoboda, a collector who had been mining in Mexico, Africa, Asia, Australia, and South America. Swoboda brought the Stewart Lithia Mine to the table; Larson's father, Carl W. Larson, knew Monte Moore, who owned three other patented mines in the famous Pala district: the Pala Chief, the Oceanview, and the Tourmaline Queen. Pala leased those, purchasing them in the mid-1970s.
Mine activity in the Pala district dates back to the 19th century, when gem house buyers from America, Europe, and Asia were quite interested in what the region produced. Key to demand in China was the Empress Dowager's turn-of-the-century passion for pink tourmaline, as Larson told a Chinese audience in 2006 (see presentation here). The district has had a series of revitalizations over the years.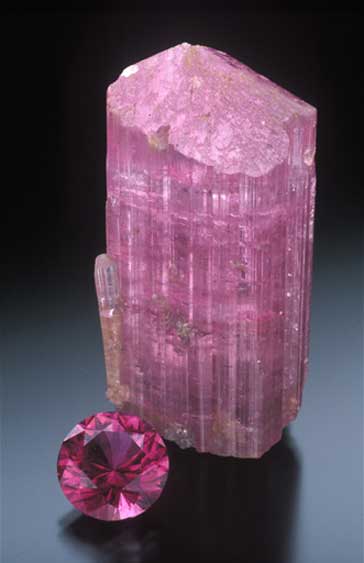 from Pala district, Stewart Lithia Mine, San Diego County. (Photo: Jeff Scovil)
Pala's first successful mining was with the Stewart Mine. "We hit the lost tourmaline adit in 1969," Larson recalls. "It was a rich area of the mine that had been missing for sixty-plus years. We found it and started producing the hot pink tourmalines [pictured above] in various pockets. Pala put in over 12,000 feet of tunnel before we sold in 1980." About one ton of tourmaline was produced during Pala's operation. (John McLean, who directed those mining efforts, reckons Pala put in a total of 36,000 feet of new underground tunnel searching for gems and minerals during its forty-year history.)
Tourmaline Queen and the Find of the Century
In 1972, building upon the success of the Stewart, Pala turned to the Tourmaline Queen, which produced what it has become famous for: an unequaled group of about fifteen world-class tourmaline specimens that feature distinctive glassy "blue cap" terminations, the quintessential example from this amazing find being the "Candelabra" (photographed by Dane A. Penland). The late Vince Manson, then curator of the American Museum of Natural History, called the large pocket of tourmaline "the find of the century" in terms of color and perfection.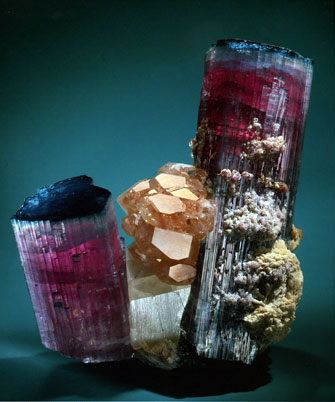 Dr. Vince Manson (right), curator of the American Museum of Natural History, examines Tourmaline Queen specimens with Bill Larson. (Photo courtesy Lapidary Journal, 1972)
Blue-cap tourmaline that was the inspiration for the Pala International logo. (Photo: Harold & Erica Van Pelt)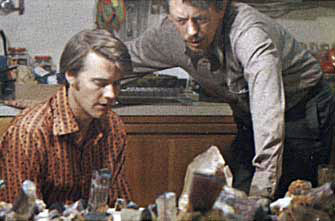 Pala Goes International
In the early 1970s, Pala assisted tsavorite mining entrepreneur Peter Morgan with six years of consultation and purchasing, essentially introducing the gemstone into the American market. Larson recalls his first visit to Tiffany in New York:
The great man at Tiffany was Harry Platt. He kept me waiting three hours in this tiny nook with a hard wooden chair. He didn't know me at all, but fortunately I had a recommendation from Paul Desautels [then curator at the] Smithsonian. When Platt let me in and we talked and he saw that I had fine tsavorite—a gemstone that he had named—he was enthralled. And that started a friendship between Pala International and Tiffany & Co. that continues to this day.
Desautels was crucial in Larson's development regarding minerals, as well.
Paul helped hone my taste; he taught me the difference between a fine mineral specimen and a great one. Among Paul's many musings was his statement about new mineral finds: "The best usually comes out first." That is good wisdom. When offering the Smithsonian fine mineral pieces, if Paul was heard to say, "That's interesting," you could go ahead and repack the piece. That was his polite way of rejecting…
Larson went on to give lectures in the 1980s to the entire gem staff at Tiffany. And he began a strong personal friendship with Peter Schneirla, who was Tiffany's senior vice president of jewelry merchandising and manufacturing. After a six-year absence, Schneirla is again a senior VP at Tiffany and the two speak a few times a month.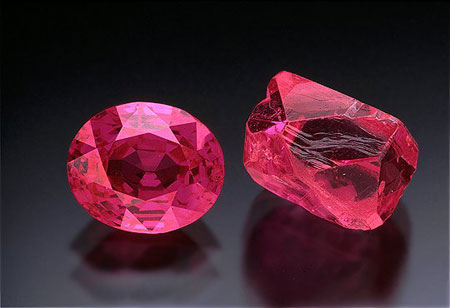 from Mogok, Burma, 3.13 carats (cut), 9 cm. wide (rough). From the collection of Bill Larson. (Photo: Jeff Scovil)
In 1973, Pala went to Mexico, with Swoboda supervising the mining of boleite and cumengeite at the Amelia Mine at Santa Rosalía (El Boleó) in Baja California Sur. In 1979, Swoboda sold his interest in PPI to Larson. The new company, Pala International, then sold the Pala district mines back to Swoboda before buying the Himalaya Mine, in Mesa Grande, which PPI had leased earlier and worked with members of the Amelia crew.
The Himalaya Mine had been active during the Empress Dowager's gem craze and in fact was years later leased and owned by Chinese gem buyer "Tom" Quin. In the early 1950s its new owner, Ralph Potter, found crystals in a new tunnel on the mine's west side. Traveling across the country, he sold the mine's output and built its reputation. It was a consortium formed by Potter that sold Larson the Himalaya. From 1981 when Pala constructed its new 750-foot tunnel, to mine's closure in 1997, the company put in 13,000 feet of tunnel—mapped by Kennecott Mines. The mine produced two tons of tourmaline during Pala International's operation.
Other local Pala International mining ventures included two Hiriart Mountain (Pala district) mines: the Sempe, which produced morganite specimens and ceased operations in 1978, and the San Pedro, which produced a fine aquamarine specimen now housed at the San Diego Natural History Museum.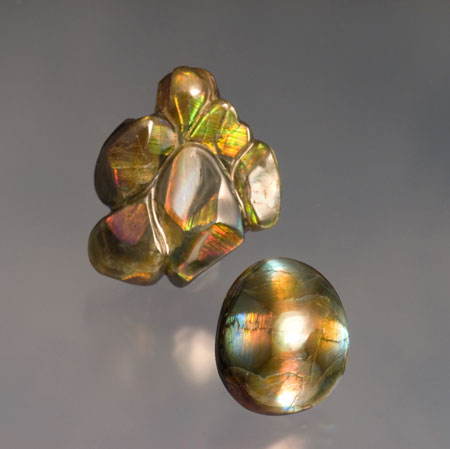 from Sonora, Mexico. Freeform weighs 56.08 carats., the oval with four-rayed star is 23.53 carats. (Photo: Wimon Manorotkul)
In the early 1980s, Pala International entered into a sapphire dredging project in Sri Lanka—the country's first legal foreign joint venture. (The Tamil separatist insurgency, however, nipped this promising venture in the bud…) Since that time, Pala International has consulted on mineral specimen and gem mining projects in Kenya, China, Russia, and Burma. One of the more recent mining ventures (2005–06) involved iridescent andradite (garnet) in Alamos, Sonora, Mexico.
Facetnating!
While Pala International is best known for its mining operations and fine colored gemstones, we should be reminded of truly extraordinary activity at Pala in the area of gemstone faceting.
During the Pala Properties years, the firm obtained a custom-made faceting unit crafted by long-time mineral collector Bryant Harris, from a John Sinkankas design—one of only three in the world. (Larson recalls also that Harris fashioned the mines' "steel doors to keep out the high-graders—work without which we could not have survived the early years.") Buzz Gray, who was on board with PPI early on, used the large unit to facet a 21,005-carat (originally 21,327 carats) emerald-cut blue topaz (the world's largest faceted stone at the time), the "Brazilian Princess," which now is in the American Museum of Natural History collection. The unit also was used by Josh Hall (not long after he joined the Pala) and in-house faceter Joanne McLean to cut three stones of note, among others:
A 6,800-carat citrine (pictured below) from Minas Gerais, Brazil, featuring 257 individual facets (200 more than a normal round brilliant cut), now at Harvard University
The "Balboa Topaz," 4,580-carat pear-shaped blue topaz from Teófilo Otoni, Minas Gerais, Brazil, cut in 1979; a gift of Mr. and Mrs. James H. Youngblood to the San Diego Museum of Art
A 2,594-carat step-cut aquamarine from Brazil—still the largest faceted aquamarine in the world—in a private collection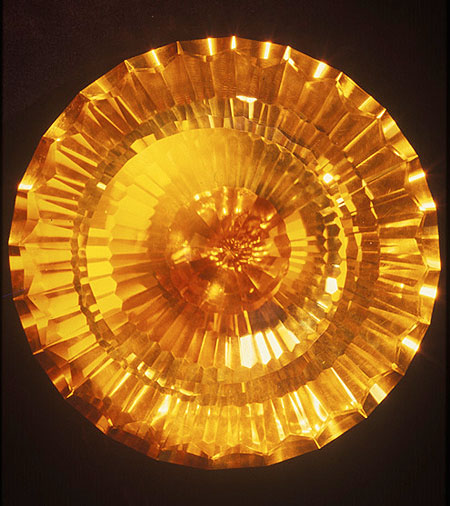 from Minas Gerais, Brazil, gives new meaning to the term multi-faceted. A gift from Mrs. Nina Bushnell, it is #1491 in the gemstone collection at Harvard University. (Photos: Pala International archives)
Faceting the large citrine, recalls Hall, was a monumental task, as evidenced by the size of the faceting unit's lap (abrasive disc): 12 inches (6 and 8 inches are standard). Because of the stone's size, the dop had to be hand made, and a machine lathe took the place of the traditional transfer block, but with another wrinkle. In order to insure perfect alignment using the lathe, both ends of the stone had to be adhered with tubes and tubes of epoxy in layers, each having to cure before the next could be applied, up to about an inch's thickness. When the stone was secured to the dop, the end to be faceted had to have the epoxy removed, just as it had been applied, little by little, in a basin of up to 8 inches of Attack epoxy solvent. The dop end of the stone, however, had to be protected from the solvent's fumes, so an aluminum foilt tent covered the solvent bowl. So these related tasks took longer than the faceting itself. All this for a massive gemstone for whom no buyer had yet been secured!
A Pillar of Industry
Bill Larson was integral in the formation of the American Gemstone Trade Association in 1981 and served on its board for six years. Three years later, Larson helped found the International Colored Gemstone Association and currently is ICA Ambassador to the United States. He is the only gemstone dealer to have been honored with a seat on the board of governors of the San Diego Museum of Natural History.
Just as most of us consult our watches for the time, Larson must have to consult his for the time zone. Over the years he's made 40+ trips to Africa, 35 to Sri Lanka, roughly 100 to Thailand, 33 to Burma, many to Russia and Vietnam, and perhaps 100 to Europe. Pala International has been a fixture at numerous trade shows and conferences, including the granddaddy of them all, Tucson, since 1969.
Bill Larson has enjoyed professional relationships and friendships with some of the giants in the mineralogical world, including John Sinkankas, who Larson met at age 14 on a field trip to the benitoite mine, and who amongst other things helped Larson acquire two thousand volumes for a library that includes rare lapidaries and a focus on Asia and Baja California; Eduard Gübelin, for whom Larson performed the first comprehensive, professional-dealer appraisal of this gemological giant's personal collection, now housed at GIA, and to which Larson had contributed; and Peter Bancroft, a gemological and mineralogical scholar, author, and lecturer who actually introduced Larson to Dr. Gübelin when Bancroft was resident mineral specialist at Pala in 1974. (Dr. Bancroft's classic Gem & Crystal Treasures currently is being revised in conjunction with BlueCap Productions for a 2010 reissue.)
Among collectors, Michael Scott stands out—"sending me to find impossible things like the 9.2-carat faceted Burmese ruby [that] Dr. Gübelin certed as one of the finest ever seen," Larson says, "and 'Big Momma,' the 10,041-carat giant ruby crystal from Burma." Two hundred pieces of Scott's collection are displayed as part of a traveling exhibition, Light & Stone, currently at the Royal Ontario Museum through November 15. The exhibition was accompanied by a monograph published by the Bowers Museum. Scott chose Harold and Erica Van Pelt to photograph the collection. Larson first met the Van Pelts in 1968, which began a lifelong friendship that remains today. "They are the great mineral and gem photographers, pioneering many techniques that long predate digital," Larson says. "They helped Pala document its mining ventures and created photographs of superb specimens that graced the covers of The Mineralogical Record as well as some of the most important mineral books for the next four decades. Our friendship also has forty years of history."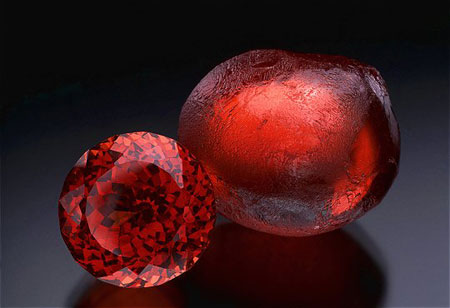 Above: var. malaia (pyrope-spessartite) from Umba, Tanzania, 23 carats (cut). (Photo: Jeff Scovil) Below: var. demantoid (andradite) from Ural Mountains, Russia, 4.55 carats. Pala's involvement in this mining project is described in Bill Larson's "Reds Turn to Green." (Photo: Wimon Manorotkul) All pieces from the collection of Bill Larson.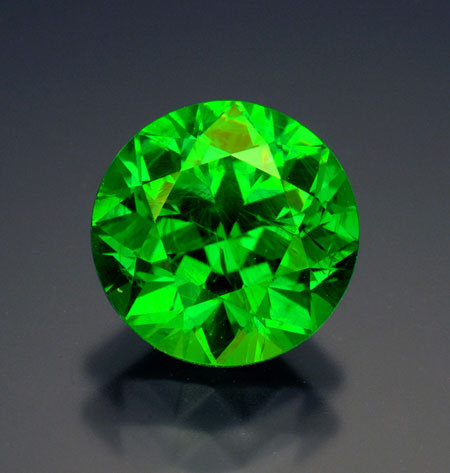 A Committed Crew
While building a personal mineral collection that is considered one of the finest ever assembled, Bill Larson also has built a wholesale business team that is virtually synonymous with the term "fine colored gemstones." To support him, he's had a dedicated group—retaining three members of Pala's senior staff, in particular, for decades: John McLean (1971), Pala's director of mining, who was instrumental in the locating and unearthing of the famous blue-cap find; Josh Hall (1976), who as VP of the enterprise oversees the day-to-day operation of everything from mailings to organizing trade shows, and also is a board member of The GemGuide (a quarterly wholesale pricing reference); and Gabrièl Mattice (1988), staff gemologist, who enjoys advising connoisseurs and tracking down those rarer, more difficult acquisitions.
The company website, Palagems.com, will celebrate its own ten-year anniversary this coming February. Developed in 1999 by author and then-staffer Richard W. Hughes, the site is not only home to Pala's online catalog, but is a storehouse of valuable reference information, historical reprints, and developing news.
Larson and crew have counseled collectors and have stocked the exhibition cases of countless museums, both by gifting and by acquisition advisement. Likewise, Larson's writings have appeared in all the literature, his presentations have enhanced many a trade show and symposium, and his "bites" have been featured in both industry and popular news media. (An example of the man in action is featured in the recent re-release on DVD of The Golden Age of Minerals, mentioned in this month's Mineral News.)
Mineral specimen aficionados in particular are familiar with The Collector, Pala's retail affiliate, which opened in Fallbrook in 1971. In addition to fine jewelry, The Collector deals in world-class, and more affordable, mineral offerings. With the new addition of Will Larson, the coming months will see a move of the mineral sales to their own operation: Palaminerals.com.
For more on Pala's forty-year history, see the following.
— Published 6/23/09 in the June Newsletter —