Sainte-Marie-aux-Mines 2009
A Report from Bill Larson, Pala International
I arrive in Frankfurt Tuesday morning, June 23, with fellow gem dealer Mark Kaufman and my son Carl. A bright summer day and we head for Sainte-Marie around noon. We proceed to miss the very same turnoff we had missed two years ago! Being a bit late we head directly to Sainte-Marie's Super U store to buy groceries. While shopping, I get a call from Marcus Budil saying, "Bring beer and come to the theatre"—l'Espace Prestige, as the local theatre is known when it plays host to the finest exhibitions of the show.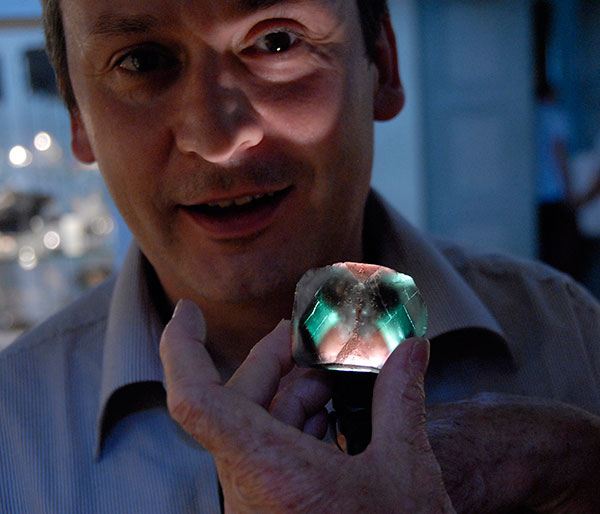 Alain Martaud examines a Nambian fluorite, the so-called "Alien." (Photo: Carl Larson)
We find a close parking spot and deliver a six-pack of fine Fischer French beer. The theatre is already 50% full, with the dealers having set up already; every year the dealers set up earlier and earlier. My other son, Will Larson, has traveled down from an extended visit to Europe, mainly as a guest of Marcus Budil. He has lots of tales to tell us, beginning by mentioning he has been in Sainte-Marie since Sunday and points out how much business has already gone down. He suggests we go to the Foreign Hall, filled with dealers from all over the world. This hall is less set up, but still much business has transpired especially with the many Chinese and Pakistani dealers.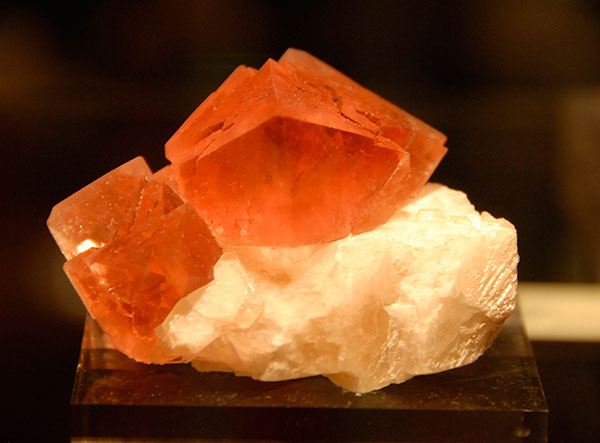 from Chamonix, France. (Photo: Carl Larson)
In the hall I meet Frank de Wit, who has many Moroccan specimens; nice cobaltocalcites, selenite, and a few rare specimens of particular interest. He is also offering tours to the mining areas. A Spanish dealer has a large selection of fine sphalerites, but most are damaged, and Denis Gravier (of Le Minéral Brut) has selected the best, including several kilos of rough for faceting, before I have arrived.
Mark Kaufman has been rapidly checking for rare faceting material, but finds little. I find a nice aquamarine on matrix and negotiate a fair U.S. dollar price, even with the euro rate being 1.4:1.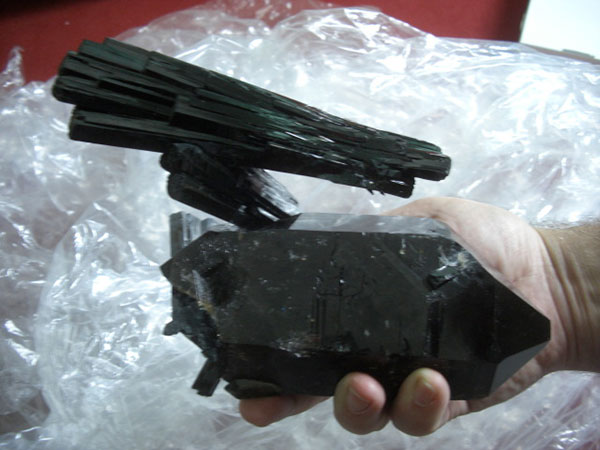 Like a raven, this Malawian aegirine is impossibly perched on a fistful of quartz. (Photo: Alain Martaud)
My good friend Gilles Emringer (of "Tailgating—French Style," last year's report) has brought his duplicate Moroccan collection and gives me an early selection. Some are fine miniatures of cerussite, azurite, malachite. The pieces were personally selected by Gilles many years ago, so I find many nice pieces for our Internet offerings. Alain Martaud has his non-French fluorites to offer, of which I am lucky to get a fine "alien" fluorite from Namibia. (French fluorites are to be the featured attraction at this year's show.) Alain has sold a few things and is happy with the show so far. He has a great surprise coming on Saturday: an opportunity to sell two of the finest aegirines to date, from Macedonia (pictured directly above). I miss seeing these aegirines, however; we have an appointment to visit Idar-Oberstein in Germany that day.
from "la mine bleue," France. (Photo: Carl Larson)
Wednesday through Thursday we search and find select individual pieces; nice rhodochrosites, fine cuprites on copper from a great new find in Russia. My friend "Small Misha" gives me a fine specimen from this latter find; I am very touched. Most of these were sold in large lots. We find many nice purple fluorites from Namibia, and we select a few.
A fine phenakite from the Molo pegmatite in Burma is shown to me and it is one of the finest I have seen, and I am properly jealous.
What's Hot In Tucson series), Bill Larson, and Franz Herzog (of SSEF Swiss Gemmological Institute). (Photo: Carl Larson)
David Wilber (known to viewers of the
Friday we head for Burgundy to select a few great wines for our Saturday excursion. Then off to Idar-Oberstein, stopping along the way in Nancy and being treated to a superb meal of raw oysters and steak tartar at the Brasserie Excelsior, with its superb art nouveau décor. We finally arrive in Idar the next day and visit the Deutsches Edelsteinmuseum in Oberstein.
from a new find in Madagascar in the hand of French dealer Laurent Thomas. (Photo: Carl Larson)
We view many fluorites, and a polished azurite from Bisbee, Arizona (pictured below). Sunday we go to see a private collection and find world-class minerals, especially strong on tourmaline. Will does a nice exchange, with both parties being happy, then we drive back into Idar late that night for our early departure the next day.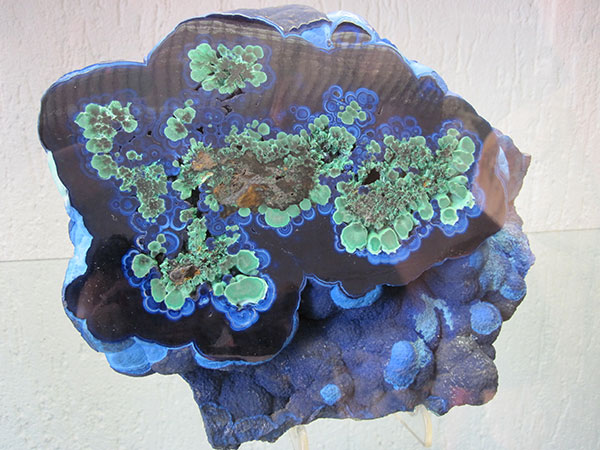 from Bisbee, Arizona. (Photo: Will Larson)
The nice part of our trip home is having a non-stop flight back to San Diego. My son Will (see his report below) is to stay on in Idar-Oberstein to visit Dr. Hermann Bank and Wild & Petsch Lapidaries. After a few days visiting the dealers and the Deutsches Edelsteinmuseum he will head to Weardale, England, to mine the beautiful green fluorites from the Rogerley Mine.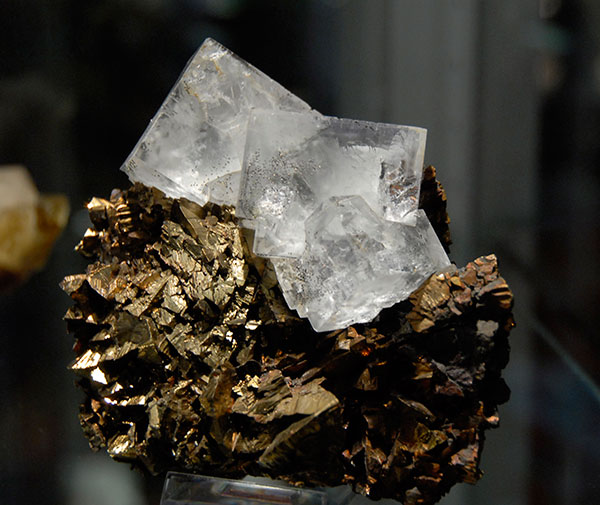 from unknown French locality. (Photo: Carl Larson)
Sainte-Marie 2010 is June 24–25 for dealers and June 26–27 for the public. To learn more, visit the show website.
---

L'avant-garde in Sainte-Marie
A Report from Will Larson

I have been traveling around Europe for almost three months at this point in time and have ended up in Sainte-Marie-aux-Mines where I shall meet up with my father. This long, extended trip is thanks to the generosity of Marcus Budil and his wonderful girlfriend Alex Vorbauer, who treated me with exceptional hospitality and housed me for many days in Munich.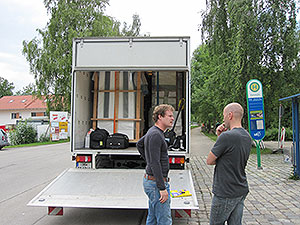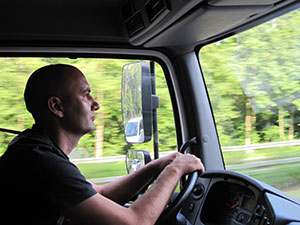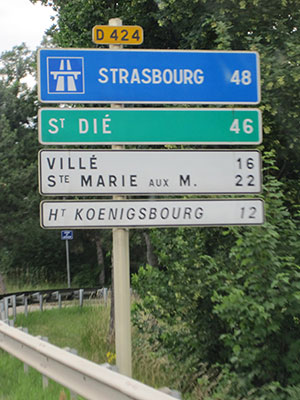 clockwise from upper left) Malte and Christoph discuss the journey to Sainte-Marie; Malte at the wheel; only 22 km to our destination; Autoportrait d'auteur au paysage. (Photos: Will Larson)
(
On Sunday, June 21, Marcus Budil's employee Malte Sickinger and I meet at Christoph Keilmann's house in Germany, where we are to begin our long journey to Sainte-Marie. (The Keilmanns are the organizers of the famed Mineralientage München, now in its 46th year.) The trip, from just outside Munich, is roughly a five- to six-hour drive in a truck like ours. Luckily for us the weather is kind and it is not too hot; a few bits of rain here and there, but nothing that slowed down the traffic. We arrive shortly after 6 p.m. and decide to wait for Marcus Budil in order to grab some dinner. After dinner all of us are tired from a day's journey and thus we turn in early so to be fresh for the next day.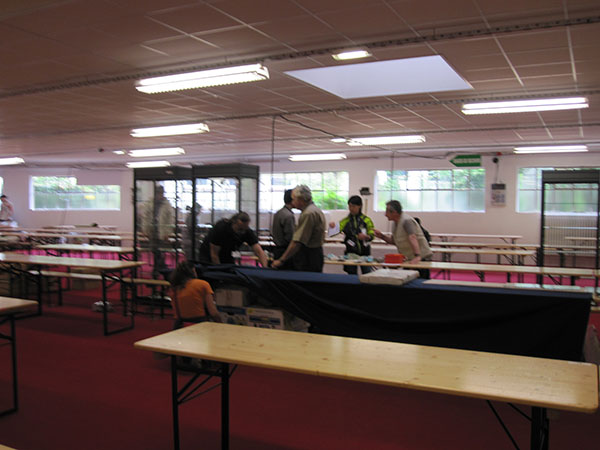 Setup is underway in the Foreign Hall of the Sainte-Marie show. (Photo: Will Larson)
Setup day is always exciting—well not so much the setting up part, but seeing what new material is around as well as what people have to offer! It's Monday morning in Sainte-Marie and the streets are a hustle and bustle, with semi-trucks trying to cram into the small streets, Chinese and Moroccan minerals flowing in by the ton, and somehow it all sorts itself out, which will never cease to amaze me.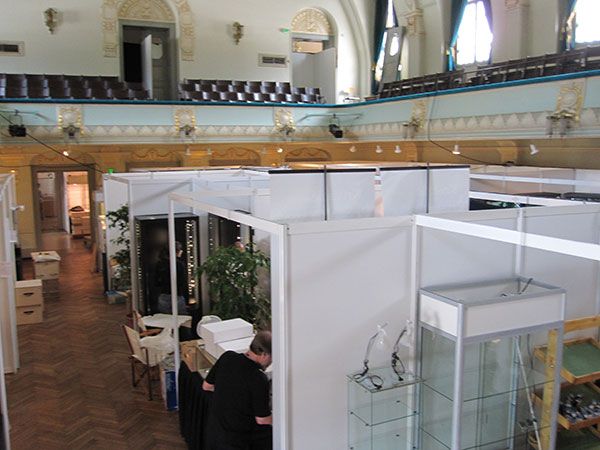 Actually, a view from the proscenium as exhibitors of the finest offerings prepare their wares. (Photo: Will Larson)
I get the chance to run around, but it is very quiet today and not much material was out on display until the latter half of the day. I do manage to meet up with Laurent Thomas, who showed Marcus Budil and me the fine Madagascar blue-green tourmalines as well as the new find of Madagascar demantoids that were recently discovered! The demantoids are quite nice for mineral specimens and different than any I have seen in person; a much more interesting surface shape than the nodules from Russia and they had a light lime-green color to them.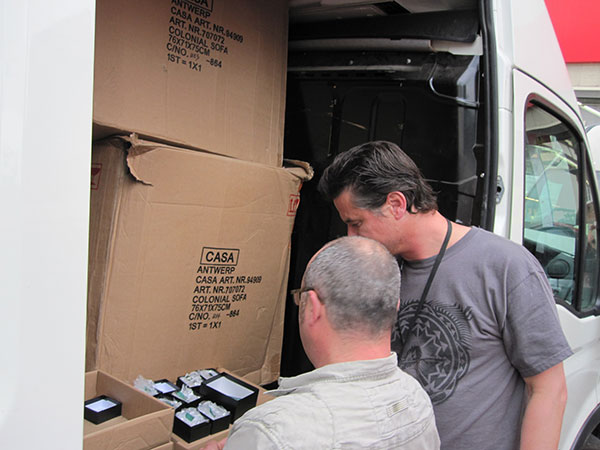 Laurent Thomas (left) and Marcus Budil looking at the new tourmaline from Madagascar. (Photo: Will Larson)
I am also privileged to meet up with the Gobin brothers who, as always, have a great amount of beautiful minerals from Pakistan and Afghanistan. As we unwrap each beauty and discuss the price, there are many fine things to be had; one piece that sticks out in my mind is a carrollite from the Democratic Republic of Congo: beautiful crystal on matrix—one of the finest I've seen.
This specimen is from a new Austian find. (Photo: Anton Watzl)
Anton Watzl and his brother Rudolf have a nice epidote (pictured directly above), a new find from Austria this year. He also has a very fine N'Chwaning rhodochrosite from South Africa.
The next day, Tuesday, I meet up with my tardy father and brother, Bill and Carl (couldn't they just once spring for the GPS?), and fill them in on what I've seen…