Editor's Note: We are pleased to reprint this selection from The Mineralogical Record, Nov.–Dec. 2001, pp. 487–496. Click on the above link for subscription information to America's finest mineral magazine. We would like to thank Wendell Wilson of The Mineralogical Record and Jeff Scovil of Scovil Photography for permission to reprint this article.
Sainte-Marie-aux-Mines Show
June 21–24, 2001
The town of St. Marie-aux-Mines, situated at the intersection of several narrow, heavily forested valleys, can be reached via route 416 from Ribeauville. By way of lovely, winding roads, through what some refer to as a "fire tree" forest. Numerous signs point to the Val d'Argent (Valley of Silver). Remnants of ancient mining activity are common. Customs officials stopped us as we entered the town. Once they realized we were not carrying any luggage, they waved us past. Later, on inquiry, locals explained how the Customs Officers are looking for cut gemstones, and they're really not too concerned with minerals. Anyone considering dealing here should be familiar with the laws of France.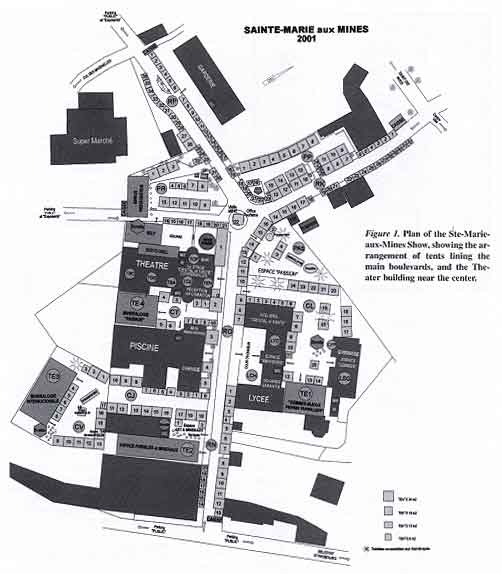 Figure 1. Plan of the Ste-Marie aux Mines Show, showing the arrangement of tents lining the main boulevards, and the theater building near the center.
St. Marie Aux Mines sits at the intersection of the natural drainage of several valleys. The valleys are long and narrow, thickly forested, with little evidence of any modern construction. Across from the office of tourism stands the most modern building in town, a combination mineral and textile museum. While a charming museum, those looking for beautiful mineral specimens will be disappointed. There is a good display of fluorescent minerals, lots of ore samples, and a few worldwide specimens donated by various dealers.
Figure 2. Magnetite crystals to 1.2 cm on chlorite, from the Karzemkkul deposit, Kustanay Oblast, Kazakhstan. The Mineral Cabinet specimen; Jeff Scovil photo.
The bourse (show) itself is well marked and lies along two intersecting streets, with white tents on both side of the lane. The show starts on Thursday, but by Wednesday there is much activity. Many different languages and many different cultures are represented. There is a cacophony of noise as drills are used to set spikes for the tent, cars streak up and down the lanes and carts rumble by. At the center of the show stands a large two story "theater" building that houses the top mineral dealers. Rumors abound on the street for pre-show interests, include reports of up to one hundred and sixty miners working the Mibladen Mine in Morocco and that there will be wonderful Vanadinite. And that China continues to produce many things. The official dates of the show are Thursday, June 21st through Sunday, June 24th, from 9 a.m. to 7 p.m.
Wednesday set up proceeds in full earnest and foreign buyers are allowed to wander as the various dealers try to set up. First purchases are often the best. There is somewhat of a scramble, especially when new Moroccan dealers start to unwrap, piece by piece, several hundred newly mined Vanadinites. A small feeding frenzy ensues as the best 100 pieces soon are quickly consumed. Tents on the street are less formal than the set-ups in most American shows. Materials are displayed on tables or in flats, unlabeled and unpriced, most of them hastily unwrapped. The exciting part for collectors is that there are many more bargains available than in comparable American shows.
Coming down the first street that I chose, the first six dealers are dealing in fossils and polished mineral pieces and amethyst geodes. However, the seventh dealer from Hungary has brought some marvelous things from the Rudabanya area, including Cuprites and Malachites that are quite respectable, showing great promise for the future. On the opposite side of the street, a Mr. Laaroussi from Morocco has a typical selection of everything Moroccan from fine Vanadinites to very small, thumbnail Azurites from Nubroden. The Azurites average 100 French Francs in price. Continuing down the street, we pass several bead and jewelry dealers, as we head toward the central plaza, where the better mineral dealers are congregated. We pass one of the many Chinese mineral booths and Mr. Yunfu Gao from Changsha, China. He has a complete representation of current specimens being mined in China, ranging from single stibnites at 30 French Francs to fine fluorites at 5,000 French Francs. In another stand (quite different than what we normally see in America), Jon-Pierre Clerc from Lanjon covers an entire 10'x10' table with the Spanish water clear Selenites in massive Alabaster. It is something that they have mined themselves and brought directly to the public. Passing another two dozen booths, we come across a friend from Morocco, Chula Vista, and Mr. Ali Hmanai.. Azurites, Erythrites, and of course, the Vanadinites. His prices are reasonable...starting at 100 francs. He also has a small group of choice minerals from various world localities, including two each very nice Carletonites, Serandites, Sperrylites, all miniatures ranges and priced between 1400 and 2000 francs. The next several booths were a potpourri of Brazilian geodes, rutilated quartz, and other such Brazilian items. On the right, another 10' booth overflows with newly mined Vanadinites, up to 18" with covered surfaces. These specimens may not interest a very sophisticated collector, but they are quite extraordinary for size and flash.
I have arrived at the Office de Tourism, which is the central area where the dealers come to get their badges. It's open-air and the three roads which make up the main aisle-ways for the general public, radiate from here like spokes on a wheel. There are other small lanes, which also are filled with tents. Tents come in several sizes, from 3 meters to 5 meters, and a few very large 10 meter tents. Many companies that come to Tucson are represented here. Mikon comes with a complete equipment selection and a great variety of inexpensive minerals and fossils. Krantz is here with a very complete selection of equipment including trimming equipment. Marcus Budil has two different booths, one wholesale and another for superb quality. In the tents, he had a large representation of Chinese Pyromorphites at 3000 French francs per flat, for one inch pieces, several flats of the new Brazilianite, priced at 4000 French francs per flat, (perhaps 20 specimens). They also had a pocket of dark green tourmalines and quartz, which the local European dealers bought with great fervor. This largest specimen was 18" wide with fine quartz crystals and priced at 35,000 francs ( $4500 US). Another excellent booth is Horst Buchard, who is of course, is represented in both Denver and Tucson. But here, he had many more minerals and fossils - especially a large selection of very fine newly mined Vanadinite. Several good Erythrites, and one very good Rosalite were also observed. The best Erythrite seen was 6" x 5" with a small vug of 1/2" crystals, perhaps covering one third of the specimen and marked at 17,000 French francs. If a buyer was selective, a whole collection of Vanadinites in all different forms and shapes; could be created as many different pockets have now been encountered and they all have their own individual characteristics.
Most dealers here have never set up in the United States, so new contacts abound. A very large booth, just past the central information booth, is Mineramafa - a dealer from France who specializes in Brazilian and Madagascar material. Most of his materials are wholesale, by the flat, somewhat reminescent of Jewel Tunnel Imports operations. In the front he did have several "Arizona Display‰ glass cases filled with individual specimens of Pyromorphites from China, the Vanadinite, and what was most interesting was a group of Madagascar, Helidores, Japanese twin Quartzes. The Quartz had been written up in the Le Regne Mineral, in the May/June 2001 edition. They're all between 1" and 3" specimens, and were priced retail from 125 francs up to 2,000 francs, and all were keystoned. The booth appears to be about 20 meters by 10 meters and was absolutely filled.
The steps of the show building became an informal meeting ground, where some finer minerals are pulled out of shirt and pants pockets. Up to 50 - 60 people wait in the shade for their friends to come. As we walk into the first room, we notice that immediately a dramatic increase in the quality of minerals. The mineral dealer in the front room is from Spain, Luis Miguel Fernandez. He has very fine minerals from Peru, including some fine wire silvers, one of which reportedly sold for 40,000 French francs. He had a very fine group of stibnites, perhaps 50 pieces, from Bia Sprie, Romania. I was particularly interested in a couple of the fine Hübnerite clusters, one of which remained unsold on Thursday afternoon, at 3,100 French francs, which is about 1 1/2" x 3", double terminated with a very fine luster. Le Regne Mineral has a very fine booth of modern books, mostly in European languages; although I did notice a John Barlow Mineral Collection catalog, as well as the Desmond Sacco collection. There was much interest in what they had, and I noticed many people were purchasing books to peruse later. Coming into a hallway, there is a very large booth of mixed European and overseas minerals. Laverriere Mineral Leon - perhaps a 30 ft. booth with 500 minerals from various localities, including one very large Vivianite cluster, perhaps 8" long and a cluster, was reserved with no price. A very fine LeBex French blue Fluorite, again with no price. We go through the hall, we open into the main room, containing fine mineral specimens; perhaps 40 top dealers from Europe, and a few overseas dealers mixed in, in no particular order. Barras-Gauthier with extremely well-displayed and very colorful minerals. Many of the latest finds are represented including Cavensite, Chinese Quartz, Chinese Pyromorphites, Sheelites from China, and new Crocoites from Tazmania. His emphasis seems to be on very beautiful pieces. Looking at a few of the fine pieces. A lovely spray of Calcites - up to 4" long each in an Amethyst cluster of Uruguay, at 7,500 French francs. He has a very large red Vanadinite, 8" x 6", ??12,00 French francs - crystals up to 1". Hematite cluster from China at 360 French francs, and a superb fluorite from China for 280 French francs.
Another French dealer, Merveilles de La Derre, a fine selection again of more colorful things, including a whole four foot display of Carthridge, Tennessee Calcites and Fluorites. Perhaps 50 good specimens from miniatures up to large cabinets. One superb Calcite from Theladore's Grussia was on a rotating stand, and marked 3,,600 FF. It was perfect 8" rhombohedron, white covered in micro druse Calcite - a very attractive specimen for a museum. Next, I see Fabre Minerals, who's well known from Tucson and Denver. Jordy has about 25' filled with beautiful miniatures and small cabinet specimens - a complete range of worldwide specimens. Two Indian dealers are represented, including one based in France, Mineral de L'Inde. They have a wonderful selection of the classic Poona and Nasik pieces. One superb 3" x 1" green Nasik Apophyllite on a 4" x 4" Basaltic matrix, covered with small Stilbites was on display at 2,600 FF. Another French dealer, Collonge had a display case of a new mineral, from Chipral, Pakistan. It was a new find of Chevkinite, a black rare earth silicate mineral, in spectacular individual thick tabular crystals to 3" x 1". They were somewhat shiny, matted black, some singles, and nice clusters of sharp, distinct crystals. Perhaps 30 pieces total, including one very large museum-type specimen of 10" x 8" with an asking price of 70,000FF. Another friend, Gilbert Gautier setup in a 3 m table in front of the stage; very similar to his Tucson display. Gilbert had two flats of absolutely excellent Carollites from the new find, with individual crystals up to 2", slight damage, but mirror bright. Marcus Budil with his second booth here and absolutely superb minerals. He has the finest things on public display. Of course, like all shows, no one knows what transpires underneath. Some of these new pieces included Pedramira, Brazil flawless green tourmalines, up to 8", asking 95,000FF. Two superb single crystals with a bit of pink sceptering at one end were marked 32,0000 and 45,000FF each. They were bi-colored from a yellowish-green to a bluish-green, flawless, perhaps 3" on one and 3 1/2" on the other. One whole showcase consisted of superb Pyromorphites, reminiscent of the ones they showed in Tucson, from the Tanping Mine in China, the finest of which was marked 70,000FF.
Three classic Vivianites from Bolivia were noticed, the finest of which was marked 95,000FF on a Siderite matrix, perhaps 3" x 2" with a double terminated brilliant green, no damage crystal, 3" x 1 1/2". Also, an excellent Tanzanite, non-heat treated, 1" x 3/4", mirror bright on a 2" x 2" matrix for 135,000FF. Across from Marcus, Crystal Classics from Devon, England had a case of very fine, old classics and showing about 20 ft. of various miniature and small cabinet minerals. The buzz here surrounded some new Bisbee-like Azurite, just mined in the "Tsumeb Project‰. In the next booth, the only American dealer showing from a booth is Kristalle, Wayne and Dona Leicht brought the finest classics to the show. As American dealers they have a fine Kongsberg Silver. A spectacular Manganite cluster from the Harz Mountain, measuring 5" x 4" with no price marked, as well as Epidotes from Austria, superb Hematite quartz from St. Gottard. Another French dealer with Chinese had an excellent selection of the normal Chinese things, in addition to which he had a new find of pink micro Inesite, up to 72,000FF for a 10" x 6" vug. Beautiful pink micro crystals, glistening. Andreas Werth, a standby at Tucson and Denver shows, has an excellent selection and probably the finest selection from Pakistan at St. Marie. Included was a new find of sapphires from Hunza, Pakistan. The finest of which was asking 20,000FF for a 1 1/2" , odd purplish-red, single complex crystal on a 2" x 3" Calcite matrix. One particularly fine specimen of Albite from Pagecomvel, Afghanistan. It was a cluster of pink crystals, radiating from perhaps up to 1 1/2" x 1/2", maybe 20 crystals total on a 5" x 4" matrix. Another dealer from Madagascar, Optic Stone had a entire booth of nothing but Japanese twins from Madagascar...small ones going from 200FF up to some larger pieces for 2,300FF. Imagine a booth of all Japanese twins! They were quite unique and seem to be selling briskly. Italy was represented with several dealers. Among them another Tucson veteran, Pregigemme. He had a very good selection of Pakistan Aquamarines from Hunza, Anatase from Norway and some new Tourmalines from Lavrarita Barbosa Mine in Brazil. They were quite dark, almost black, green tourmaline on water-clear quartzes - quite aesthetic, asking 8,500FF on one superb small cabinet, with a 4" tourmaline coming across the top of a quartz termination, and 2 1/2" tourmaline across it. Another Tucson veteran, but more a customer in Tucson than a dealer, is Mark Grossmann. Being a collector, his taste in specimens is indicative of that, with every single piece obviously individually selected and quite excellent. Among those that caught my eye were a single demantoid gem crystal from Erongo, that would make a superb thumbnail, and some unusual Parisites from Malawi, up to 2" x 2" clusters quite fascinating in their form. Across from Grossmann is Chris Goban, who specializes in minerals from the Democratic Congo. Goban's booth had been the initial buzz of the show. With fabulous new Carollites, in mirror bright crystals up to 3" across, and some with little or no damage. Their selection of several hundred specimens even exceeded the selection which they sold in Tucson. I believe they have great promise for the future in getting new and usual things from this locality. For rare mineral collectors, there were some Sulvanites from Tuscany, Italy, just been mined with the dealer Dr. G. Carlo Fioravanti. Tom Kapitany had a complete selection of various things from his native Australia, including some superb Opal Bekenites in matrix, which went up to 6 400 FF and some new coppers from Selwyn Mine, Queensland Australia. Perhaps 20 pieces in all. Two or three of the finest were excellent miniature specimen. The last two dealers before we leave the hall, with one of the finest displays, perhaps slightly over ten meters, is Francois Leotard and Christine Gaillard. They have a mixed group of beautifully newly mined Vanadinite, many of which had been sold prior to the show in some very large, private dealings. One beautiful miniature caught my eye, marked 22,000FF, its white Barite matrix contrasting sharply with very red Vanadinites to 1" x 1" with several 1/2" underneath it. He also had Erythrite from the new find, including a beautiful miniature 2" x 1 1/2" with 1" crystals at 14,000FF. In Leotard's stand, a surprising new mineral find were very bright blue Spinels, up to 1" on Calcite from Hunzar, Pakistan, and a selection of very fine single green Demantoids from Iran. One piece was 1 1/2" x 1", showing some distortion, but enormous size for a crystal, marked 17,500 FF.
Outside in between tents of jewelry and amber, sits Alain Martaud (33 Rue Compans, 75019 Paris, France) who had many surprising classic African minerals from the Béhier collection. Béhier wrote a mineralogy of Mozambique (1957) and a supplement to the mineralogy of Madagascar (1960), and consequently his collection was strong in Madagascar minerals, including tourmaline, betafite, thorianite, and other pegmatite species. Noted, was a sharp 1‰ thorianite crystal, a reinite (ferberite after scheelite) from Uganda, and a razor sharp dodecahedral betafite about 2 cm.