Featured Stones 2009-2011
Pala International's Featured Stones – 2011
Featured in Pala's Gem News. See other:
December 16, 2011: Star Moonstone from Burma
A phenomenal phenomenon. To understand what properties are at work here, we must start with feldspar, the most common mineral group found in the earth's crust. Then we bounce light off the prism-like features that make up the crystalline structure within this gem and we illuminate the adularescent effect: a glowing, billowing light that seems to dance across the moonstone. As these internal structures start to line up in a repetitive pattern the light begins to concentrate and is refracted back out upon the surface of the stone as lines that form rays of the star. This is a common mineral with uncommon symmetry, filtering and focusing the light in a brilliant interface. The bottom half of the moonstone shows three rays of the star and a golden adularescence, while the upper half exhibits some of the blue sheen and traces of the star formation. The pattern morphs continuously as you move the light source above. The adularescence and star seems to float above the surface of the moonstone like the glow of a candle.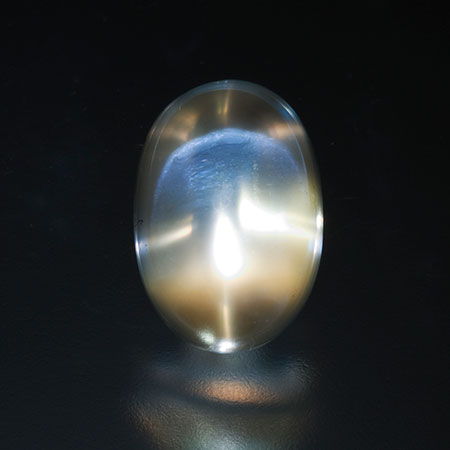 #18905. (Photo: Mia Dixon)
Star moonstone from Burma, 4.57 carats, 13.24 x 9.15 x 5.87 mm. Inventory
Interested? Select the inventory number above, call or email us to inquire. [back to top]
---
November 17, 2011: Corundum Cornucopia
This month we feature the bounty of the corundum family: all-natural Mozambique ruby, Madagascar blue sapphire, and a Madagascar purple sapphire. This is a beautifully vivid trio exhibiting the best in each class. Just some of the freshly picked gems from Bill and Will's recent trip to the Far East.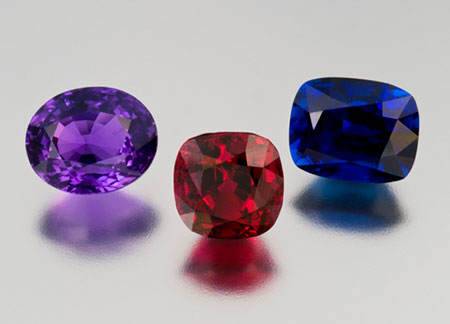 19551), ruby (Inventory #19548), blue sapphire (Inventory #19550). (Photo: Mia Dixon)
Purple sapphire (Inventory #
The 3.59-carat ruby comes to us from Mozambique, where some of the finest natural reds are being produced currently. Reminiscent of the Burma pigeon's-blood red color, this dark and intense crimson stone illuminates in the daylight.
The 3.65-carat blue sapphire was mined in Ilakaka or perhaps in Andranondambo, Madagascar, once again where the finest of natural blues seem to bubbling up lately. It features rich, Kashmir-like blue with deep saturation and a classic cushion cut.
The 3.70-carat natural purple sapphire was most likely mined in Ilakaka, Madagascar, famous for fancy colors. This unique sapphire is quite amazing, shifting from purple to violet in different light sources. Vivid color raises the purity to levels rarely seen in sapphire.
For information on the gemstones of Madagascar, see "Sorcerers & Sapphires" by Richard W. Hughes, Vincent Pardieu and Dana Schorr.
Interested? Select the inventory numbers above, call, or email us to inquire. [back to top]
---
October 18, 2011: Hessonite Garnet
This month we feature a hessonite garnet from Sri Lanka.
Hessonite is a variety of the grossular species in the garnet group. Also referred to as "the cinnamon stone" due to its golden orange hue, hessonite takes on the color of fall and the upcoming Halloween spirit. Hessonite is known for its heat wave effect or roiled appearance internally which can be diagnostic for the variety.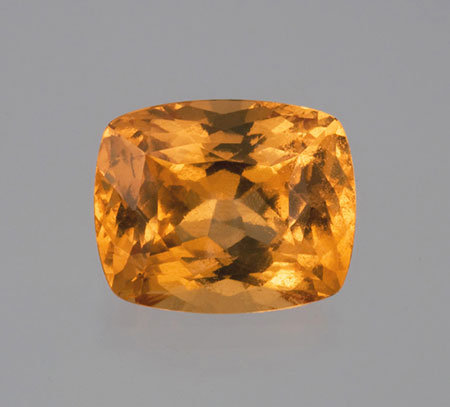 13351. (Photo Mia Dixon)
from Sri Lanka, 23.21 ct, 18.02 x 14.85 x 10.81 mm. Inventory #
This 23.21-carat hessonite is definitely large for its kind and comes to life with a beautifully faceted cushion cut. An unusual beauty, suited for the rare garnet collector or a specimen to work into a fall fashion piece of jewelry.
Check out all the wild varieties of garnet we have at Pala—from andradite, pyrope, spessartite and rhodolite—here and begin your search.
Interested? Select the inventory number above, call, or email us to inquire. [back to top]
---
September 15, 2011: Amber from Burma
When most of us hear amber we conjure up visions of some amorphous blobs of honey-colored sap with insects trapped inside. Usually this is the state in which you find amber, but during Pala International president Bill Larson's last trip into Burma he found that the Burmese were faceting this hardened tree goo.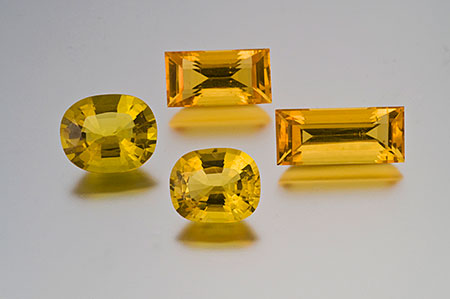 19335 3.25 ct cushion; 19332 3.85 ct emerald cut; 19337 2.75 ct cushion; 19338 4.0 ct emerald cut. Click to enlarge. (Photo Mia Dixon)
A choice selection of Burmese faceted amber: Inventory #
It was kind of a sweet surprise to see these colorful, faceted golden ambers, a new twist on a fairly common gem. Another interesting property is that the specific gravity of amber is so low, a 4-carat gem actually appears to be what we would normally consider a 10-carat stone. Large, light-weight, honey amber jewels…. Fun for the whole family.
See our selection of amber here.
Interested? Select the inventory numbers above, call, or email us to inquire. [back to top]
---
August 17, 2011: Cat's Eye Sillimanite from India
This month we feature an unusual gem variety with a phenomenal property. Sillimanite, aka fibrolite, was named after Benjamin Silliman, a professor of chemistry and geology at Yale University, in 1824. Sillimanite is an aluminum silicate and is closely related to andalusite and kyanite.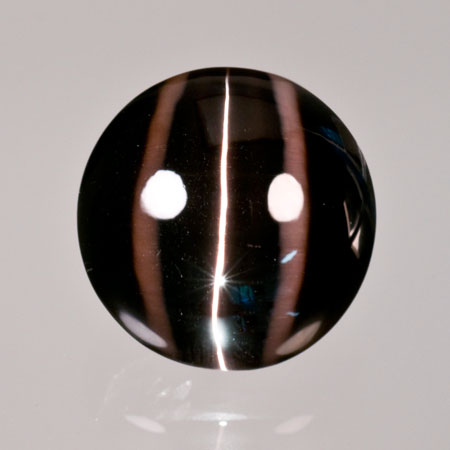 #19227. (Photo: Jason Stephenson)
, 63.15 carats, 22.71 x 22.40 x 13.93 mm. Every light creates an eye; notice the thin white eye in the middle and the thick mauve bands outside. Inventory
This cat's eye sillimanite exhibits an exceptionally sharp white eye on a thick black base color. This contrast makes for a dramatic specimen. Weighing in at 63.15 carats, the piece also carries an impressive size in a perfectly round 22-millimeter diameter.
This is a great gem for cat's eye collectors or folks who just look to go big. Many forms of sillimanite are found around the globe, but the largest and finest cat's eyes come from Orissa in India.
Interested? Select the inventory number above, call, or email us to inquire. [back to top]
---
July 14, 2011: Paraiba Tourmaline from Mozambique
This month we feature an elegant suite of paraiba tourmaline from Mozambique. With its beautiful array of colors, it exhibits all the hues produced by this unique deposit in Nampula province, in western Mozambique.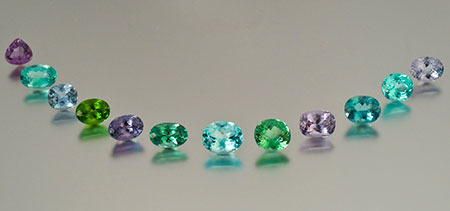 Playful colors of Click to enlarge. (Photo: Mia Dixon)
: 12 pieces, 30.66 carats.
From purples to lavender, mints to evergreen, and teal to Caribbean blues, this neon color palette is unique to only three deposits on the planet where copper has entered the melt and produced theses fluorescent gems. From the original find in Brazil, then across the Atlantic to Nigeria, and then finally across the African continent to Mozambique, paraiba tourmaline has mesmerized gem collectors world wide. The deposit in Mozambique is producing very little these days and seems to be on its last breath, making these stones increasingly rare.
The demand for paraiba is still very strong in the market, and we cannot satisfy the appetite for many of our clients because there simply aren't enough stones available. This progression of new finds and waning production seem to follow the natural punctuation of gem deposits—here and then gone—and so we hope you are left with one paraiba in your hand before the music stops.
Interested? Call, or email us to inquire.
Take a look to see what is still available in Pala inventory. And see our article on the Mozambique discovery. [back to top]
---
June 17, 2011: Sri Lankan Green Zircon
This month we feature an unusual green variety of zircon from Sri Lanka that glows with intensity. The substantial size of this zircon also adds to the rarity. It features a luscious evergreen hue and a pleasing antique cushion cut.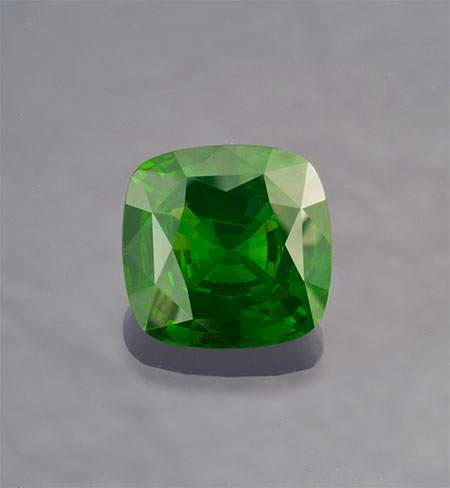 Green zircon, 20.85 carats, cushion cut, 16.15 x 15.80 x 8.79 mm. This stone has been sold. (Photo: Mia Dixon)
In zircon, a natural substitution of the element zirconium with uranium and thorium atoms causes damage to the crystal structure—known as metamictization—giving the material what some call a "sleepy" appearance as well as causing green coloring. Zircon that has been affected by metamictization is known as "low zircon," but we have only the highest regard for this month's gem, which exhibits lovely clarity and color, and perhaps a "stifled yawn." A rare, beautiful, and intriguing gem sure to attract your attention.
Interested? Select the inventory number above, call, or email us to inquire.
For more than you ever wanted to know about metamictization, see this American Mineralogist article and also this Mindat.org entry on zircon. [back to top]
---
May 17, 2011: Lion's Paw Pearl from Baja
Continuing with last month's theme of natural pearls we bring you another rare beauty from the sea—this time from the lion's paw scallop. The fan-shaped mollusk from the Pectinidae family (species Nodipecten subnodosus), known locally off of Baja California as Mano de León, produces natural colored pearls from white to pink to intense purple.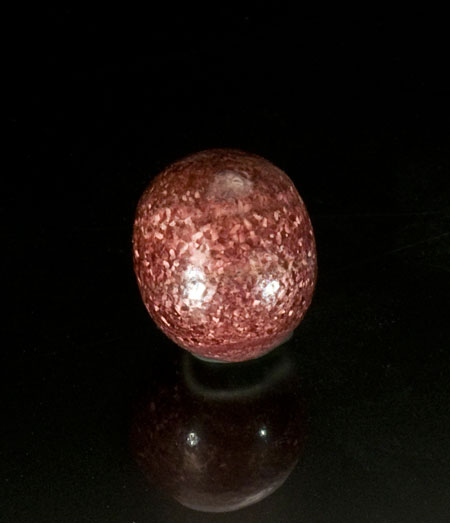 #19240. (Photos: Jason Stephenson)
5.90 carats 10.21 x 8.75 mm. Inventory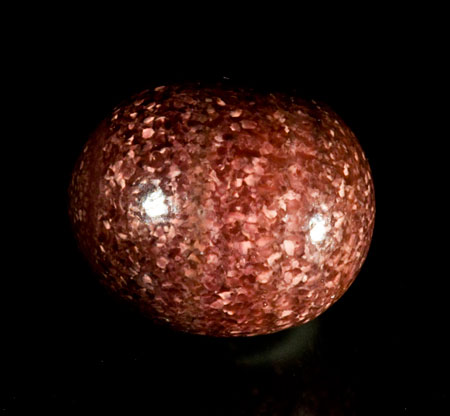 This month we feature a scallop pearl of the burgundy-colored variety, with a striking pixilated-type pattern. Random brushstrokes of white, pink and purple make for an almost 3-D effect when rotated in the sun. The light dances off these platelets of color like the pinfire effect in opal, or a miniature chatoyancy—definitely an interesting phenomenon.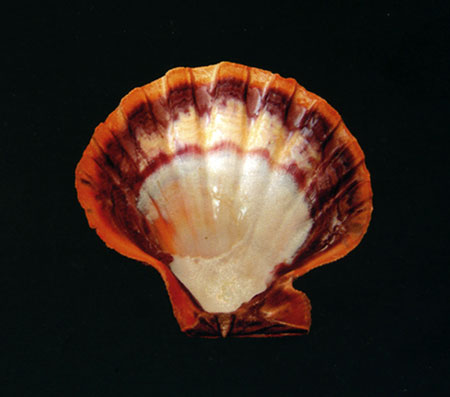 Nodipecten subnodosus displays rounded convex projections shaped like a lion's digits. Only rarely does this bivalve produce its calcareous (non-nacreous) pearls, such as this month's feature. The image above comes from Pearls by Hubert Bari and David Lam. (Photo: Hubert Bari)
The scallop
For more information on these pearls, see Scarratt, K. and Hänni, H. A., "Pearls from the Lion's Paw Scallop," Journal of Gemmology, Vol. 24 (2004), No. 4, 193–203.
Interested? Select the inventory number above, call, or email us to inquire. [back to top]
---
April 14, 2011: Natural Abalone Pearls
This month we feature something a little out of the ordinary—a local Californian/Mexican treat. Pala has found a new supplier of these ocean jewels and it has been exciting to see all the freeform shapes and iridescent colors nature can conjure up. Greens, blues, pinks, purples—oh my! These colorful metallic looking concretions spark in the viewer a wonder of formation and inspire design, as many shapes are personified or reminiscent of earthly objects. For instance, the featured piece below takes on the form of a hot air balloon or a tropical sea creature.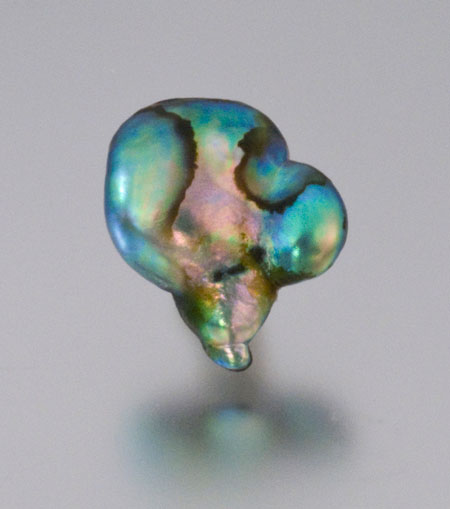 This 11.82-carat freeform natural abalone pearl measures 20 x 17 x 7 mm. (Photo: Jason Stephenson)
Abalone shells were once completely legal to pry from the ocean floor. For divers, all it took was some scuba gear, some hardware, and a shark radar. Today most of these abalone species are becoming endangered and many restrictions apply on fishing. Fortunately most of the abalone taken from the sea are harvested legally, but an estimated 12% are poached illegally. Natural abalone are estimated to produce a pearl only in one out of 50,000 cases, and it can take as long as eight to ten years to form a pearl. Farm raised abalone can produce a pearl in a shorter, two-to-three-year period.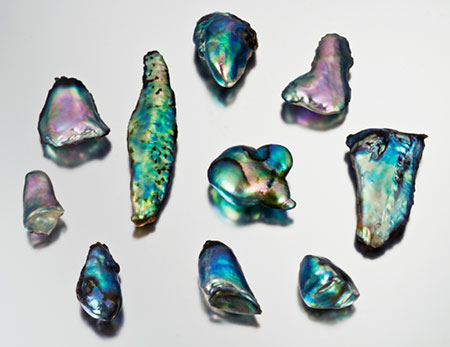 This group of natural abalone pearls shows the variety of sizes, shapes and colors available. Prices for all available upon request. (Photo: Mia Dixon)
See this government website for current information on abalone. For more on natural pearls see this article by Elise Skalwold from our January edition.
Interested? Call or email us to inquire. [back to top]
---
March 16, 2011: Mozambique Ruby
This month we feature a ruby from a new deposit in Mozambique. This unheated red beauty is from the Montepues (aka Montepuez) area of Cabo Delgado Province, about 225 km. north of Nampula in northeastern Mozambique. This new source came along just in time as our legal stock of rubies from Burma has been running out. Since we can no longer import rubies from Burma, these fine natural rubies from Mozambique fill a perfect niche for those in the U.S. on the hunt.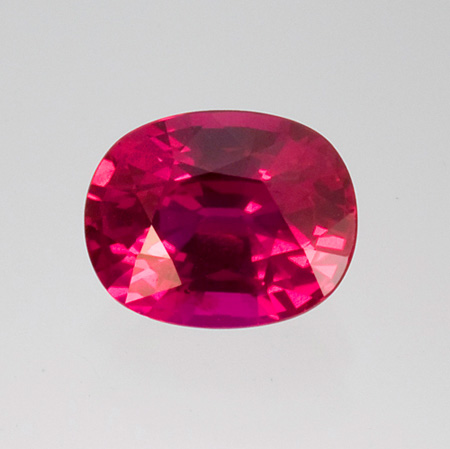 #18995. (Photo: Jason Stephenson)
3.16 carats , 9.11 x 7.31 x 5.55 mm., natural color and GIA certified. Inventory
This 3.16-carat exhibits the finest properties from the deposit: fine natural red hue, virtually flawless and a beautiful make. A great alternative to a Burma ruby and the pricing is quite competitive. Pala recently bought a small parcel of these new rubies. See our selection of the new Mozambique rubies here.
Interested? Select inventory number above, call, or email us to inquire. [back to top]
---
February 16, 2011: Vietnamese Blue Spinel
Spinel has become increasingly popular, due in part to all the wonderful natural colors it produces. The more common colors are the red hues with secondary colors mixed in—like orange, purple and pink. To find pure red in spinel is probably even more rare than finding a pure red ruby. There just simply aren't as many spinels coming out of the ground, so to find pure and intense natural colors seems to be on the wish list for many new collectors.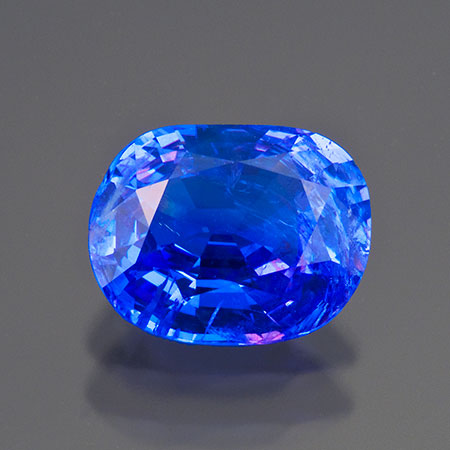 Note: This stone has been sold. (Photo: Mia Dixon)
2.59 carats, 9.0 x 7.0 x 4.8 mm.
When we shift over into the blue hues the scarcity increases and we weed through many over-dark grayish-blue spinels until we find these blistering cobalt-blue jewels. In fact, we even had this most recent blue spinel (above) tested for cobalt at the Tucson show, at the GIA Show Service Laboratory. In the end the lab was able to find the presence of cobalt through the Chelsea filter, which glowed cherry red when illuminated.
This collector's dream really didn't even have a chance of making it into our inventory; there was a line of people who wanted it and it has already found a home. However, we still wanted to share the excitement of such a spectacular and rare gem with our loyal readers.
Interested in something similar? Call or email us to inquire.
See our latest selection of spinels here. And see a notice about a new book on spinel. [back to top]
---
January 18, 2011: Benitoite… A California Gem
Staying in suit with the theme of this year's Tucson Gem and Mineral Show, we are featuring the state gemstone of California.
A monster in terms of the benitoite species, this 4.22-carat gem exhibits not only great size but also intense purplish blue color. This mixed cushion-cut jewel also throws out a little dispersion and shows some color banding seen as purple, blue, and white patches in the gem photo. This banding is also seen in the benitoite crystals with a purplish blue outer rim and a white center.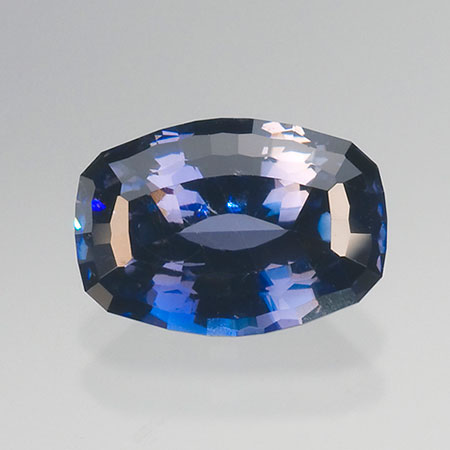 #18852. (Photo: Jason Stephenson)
4.22 carats, 11.77 x 8.27 x 5.0 mm. Inventory
As you're probably aware, large crystals and fine faceted benitoites are really only found in San Benito County in Central California. The story goes that a couple of copper prospectors serendipitously spotted the shiny blue gems on a weathered-out hillside one morning in 1907. Further investigations and several mining projects later, benitoite was unearthed and poised as California's state gem.
Click to enlarge. (Photo: Jason Stephenson)
two large ditrigonal dipyramidal crystals (2.5 cm.) and several smaller ones on white natrolite and green serpentine matrix.
Interested? Select the inventory number above, call, or email us to inquire.
See also these benitoite resources:
Mineralogical Record, Jan–Feb 2008, "The Benitoite Issue" – Contains photos by Wimon Manorotkul of Bill Larson specimens (pp. 28, 31, and 33), amongst other goodies
Mineralogical Record, Nov–Dec 1997, "The California Issue" – Includes "Minerals of the Benitoite Gem Mine" by William S. Wise & Robert H. Gill
American Mineral Treasures, Michael Gray: "The Benitoite Gem Mine," p. 120
[back to top]
---
Pala International's Featured Stones – 2010
Featured in Pala's Gem News. See 2005–2008 Featured Stones here.
December 15, 2010: Golden Zircon from Tanzania
Do not adjust your monitor; you are seeing the mesmerizing effects of zircon. The doubling within this jewel causes the onlooker to see two images in tandem. It's kind of like crossing your eyes, except the two axes within the stone are doing the crossing to the light. When the two refractive indices or axes separate the light into two speeds, this difference—called birefringence—is manifested as two separate images or doubling. The higher the birefringence, the stronger the doubling.
#18722. (Photo: Mia Dixon)
This 36.79-carat stone measures 19.87 x 15.28 x 11.7 mm. Ask for Inventory
Many gems play with light in varying fashions because of their complex structure and chemistry. Zircon is just another example of diverse optical characteristics that gems display. See our inventory of zircon here.
Pleasing to the eye… Color
As mentioned above, gems play with light and produce many wonderful phenomena and properties, but the easiest property to appreciate and understand is color. We see and take the plethora of colors around us for granted everyday. Pure, natural color in gems can be almost surreal, when mother nature produces vivid and pure hues. This suite of gems, below, from Pala's inventory is a colorful reminder of all the amazing chromatics nature has to offer. Whether you see the pure beauty of these jewels or are intrigued by their unusual properties, they are sure to please.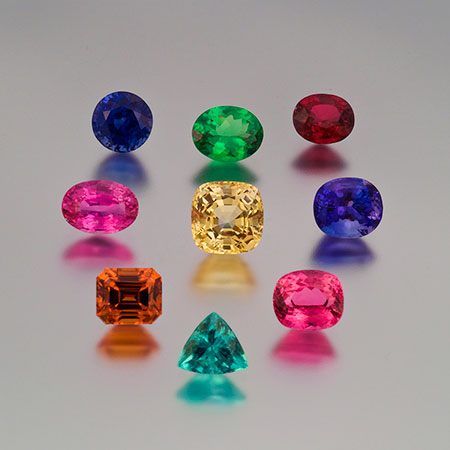 Click the photo to zoom in)
Row 1: Blue sapphire (2.55 ct. Inv #10127), Tsavorite (2.5 ct. Inv. #18582), Red Spinel (2.37 ct. Inv #16659)
Row 2: Padparadscha (3.11 ct. Inv #18036), Yellow Sapphire (5.87 ct. Inv #14877), Tanzanite (3.19 ct. Inv #1762)
Row 3: Spessarite (3.32 ct. Inv #13069), Paraiba (1.58 ct Inv #18754), Pink Spinel 3.08 ct. Inv #17388). (Photo: Mia Dixon)
Interested? Select the inventory numbers above, call (telephone numbers below), or email us to inquire. [back to top]
---
November 17, 2010: Sphene from Burma
This month we are featuring a spectacular golden sphene from Burma. This dark honey-brown gem is warm and enticing at first glance. Then, when you rotate this stately gem and vary the light, it comes alive, waking up the dazzling dispersion that sphenes are famous for. Throwing all the colors of the rainbow, this jewel is mesmerizing and sure to entertain the veteran collector as well as the novice. Sphene is found all over the world in colors ranging from orange, yellow, green, and brown.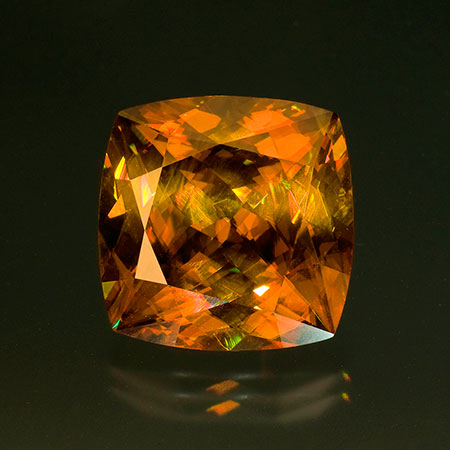 #18755. (Photo: Jason Stephenson)
This stone weighs 40.33 carats and measures 20.03 x 20.05 x 12.86 mm. Inventory
See our full selection of sphenes here.
Interested? Select the inventory number above, call, or email us to inquire. [back to top]
---
October 19, 2010: Cuprite from Namibia
This month we feature a cuprite that is not usually on the palette for gem collectors. In fact, it's rarely seen in fine faceted gems such as this 46.07-carat beauty. Fairly common to the mineral world, cuprite rarely crosses over to the gem trade in fine material, and the rough has become increasingly harder to obtain.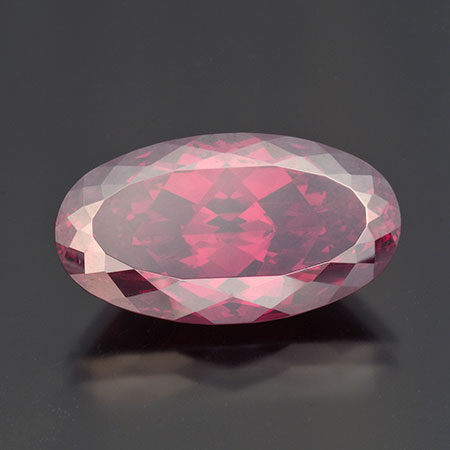 This stone has been sold. (Photos: Mia Dixon)
46.07 carats, elongated oval 25.61 x 14.2 x 9.8 mm.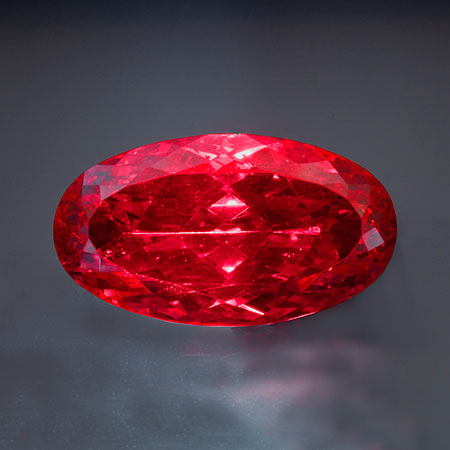 Consisting of just copper and oxygen, cuprite is associated with native copper, malachite, and azurite, and is found in oxidation zones of copper deposits all around the world. This gem is from the Emke Mine, Ogonja (Onganja), Windhoek District, Khomas Region, of Namibia. Its dark initial metallic luster is deceiving, because when the lights shine through, a ruby-red gem illuminates.
See a natural cuprite crystal here. And see the Mindat.org entry for cuprite.
Interested in something similar? Call, or email us to inquire. [back to top]
---
September 16, 2010: Demantoid Garnet Suite from Russia
This month we feature not only a rare and exceptional gem, but a whole line of dazzling green gems. Well matched and full of life, this exquisite line constitutes all the desired properties of demantoid garnet from Russia. The recognizable intense yellow-green hue, strong brilliance and dispersion, and of course the famed horsetail inclusions.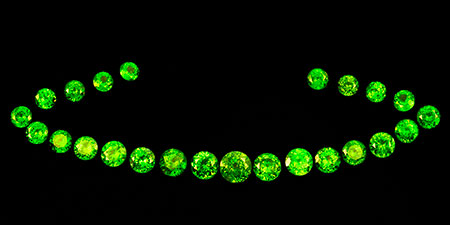 #18529. The center stone (Inventory #14850) is 1.72 carats at 6.74 mm. See enlargement here. (Photo: Mia Dixon)
23 stones with a total weight of 15.73 carats, ranging from 5.9 to 4.4 mm. Inventory
When we see horsetails we know they can be traced back to the Ural Mountains of Russia. There are limited quantities of demantoid starting to emerge again from Russia, but it seems new pricing has caught up to the extremely rare and beautiful nature of this gem. Luckily here at Pala we still have a good supply of older stock and thus can offer reasonable pricing consistent with a decade ago.
Interested? Call or email us to inquire. [back to top]
---
August 19, 2010: Burmese Red Spinel
Spinel continues its rise in popularity and intrigue in the gemstone market. Many collectors are on the hunt for the elusive 10+ carat red spinel, which is hard to find because most crystals come in smaller sizes, leading to faceted stones weighing mainly under 5 carats. It seems even harder to track down a fine 10-carat red spinel than it is to find a 10-carat ruby these days. The rarity of these spinels is becoming more apparent as collectors branch out in search of the next fine gem to add to their collection.
10.21-carat cushion red spinel from Burma, 15.9 x 12.01 x 6.67 mm. Ask for Inv. #18576. (Photo: Wimon Manorotkul)
This month we feature a 10-carat red spinel from Burma with a spectacular red hue and a lot of character. In normal lighting conditions this gem is deep purplish red; under bright lighting or natural sunlight the gem comes alive with a slightly pinkish red hue and a fluorescent glow. The gem has an Gübelin Gem Lab cert from 1993 with its original weight of 15.81 carats. It was recently recut to its current weigh of 10.21 carats to improve cut and brilliance.
Click here to see our inventory of more spinels.
Interested? Call or email us to inquire. [back to top]
---
July 18, 2010: Mint Grossular Garnet
Green grossular is a pleasant variety of the garnet family. Lighter green hues—often described as mint—glow with a subtle beauty. Gems such as our feature this month seem to have a neon quality, a fluorescence in natural light. Varying amounts of V2O3 & Cr2O3 (vanadium and chromium) account for the intensity of the green.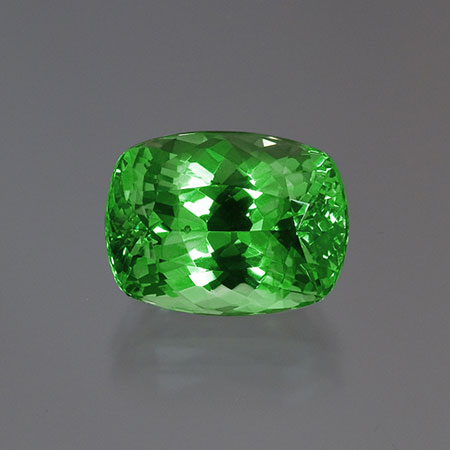 #18012. (Photo: Jason Stephenson)
Mint grossular garnet, 12.04 carats, 14.63 x 11.14 x 8.87 mm., Inventory
These green jewels are occasionally found in the Merelani Hills of northern Tanzania. Mint garnets under 5 carats are fairly common, but stones over 10 carats are extremely rare, especially with this highly saturated, pure mint color. Its darker, more evergreen brother, tsavorite, is found in Merelani occasionally and further to the north in a similar geologic setting from northern Tanzania into southern Kenya.
Read more about the Merelani deposit here.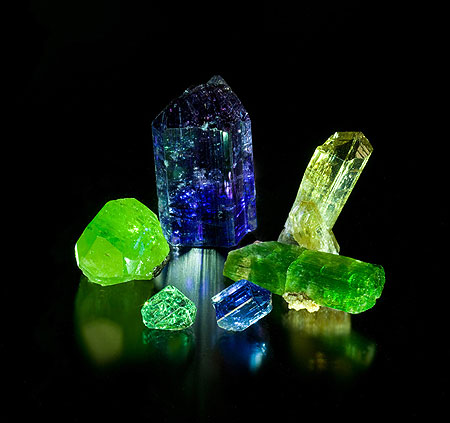 Clockwise from top center: tanzanite 5.5 x 2.7 cm., yellow zoisite 4.6 x 1.5 cm., tremolite 5.1 x 1.8 cm., tanzanite 1.7 x 1.1 cm., grossular garnet 0.9 x 1.4 cm, diopside 3 x 2.5 cm. From the collection of Bill Larson. (Photo: Jason Stephenson)
Interested? Select the inventory number above, call, or email us to inquire. [back to top]
---
June 17, 2010: Mozambique Paraiba Tourmaline Pair
This month we feature a pair of Mozambique paraiba tourmalines par excellence.
These two beauties were swimming around solo in our inventory for a couple of years until we realized they made a stunning matched pair. As our stock of fine paraibas from Mozambique has dwindled, these seem to find a common bond in size, shape, and that fluorescent glow we come to recognize with these copper-bearing tourmalines.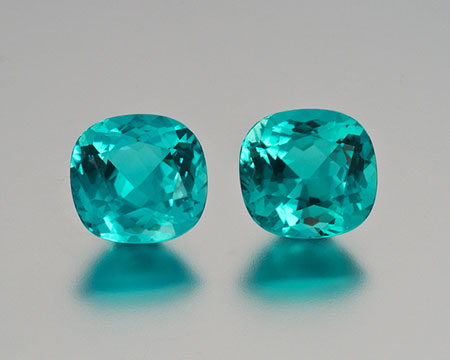 Paraiba tourmaline from Mozambique; right, 6.0 carats, 11.35 x 10.71 x 7.47 mm.; left, 5.53 carats, 11.23 x 10.81 x 7.04 mm. (Photo: Mia Dixon)
Right along with our stock, the actual deposit in Mozambique has been drying up quickly. Numerous sources report only small, included pieces of rough being found on the outskirts of the main paraiba ore lens. Just as Mother Nature assembled this particular variety of tourmaline into a small deposit, we have brought together two of the finest paraibas in a gorgeous bond.
See our selection of paraibas here. Read more about the Mozambique deposit here.
Interested? Call or email us to inquire. [back to top]
---
May 18, 2010: Golden Tourmaline from Mozambique
This month we feature an unexpected tourmaline from Mozambique. Along with the discovery of paraiba-type tourmaline, and the amazing spectrum of neon colors, a few other unique colors have surfaced as well. This golden tourmaline exhibits a dominantly yellow hue with a kiss of orange. A gemologist may even be puzzled to site-ID this gem, which hints at chrysoberyl, golden beryl, sapphire, and zircon. A chameleon of sorts for the inquisitive eye of a collector. A perfect jewel, precisely faceted, to round out a tourmaline collection or as a centerpiece for a one-of-a-kind design.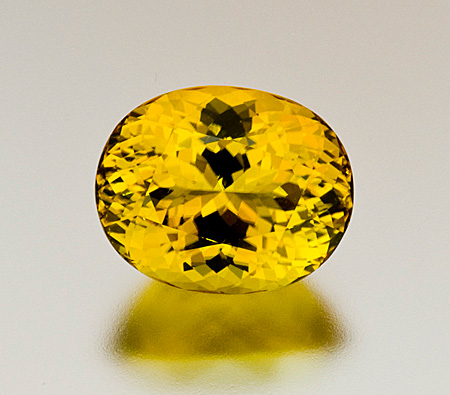 11.19 carats, 15.01 x 12.08 x 9.31 mm. This stone has been sold. (Photo: Jason Stephenson)
See other tourmalines from Mozambique:
Interested? Select the inventory number above, call, or email us to inquire. [back to top]
---
April 13, 2010: Made in America
This month we visit some homegrown stones that remind us of the rare treasures the U.S. has spawned.
Oregon has continuously produced beautiful and natural feldspar sunstones. Intense, orangey-red gems such as the 5.30-carat pictured below are some of the rarer hues found at the Dust Devil Mine outside of Plush, Oregon.
California's state gem has taken a hiatus for the time being, as far as new production, but we still see a few jewels circulating in the trade. The Benitoite Gem Mine in San Benito County has blessed us with truly rare and beautiful gems over the years, including the 2.63-carat round shown below.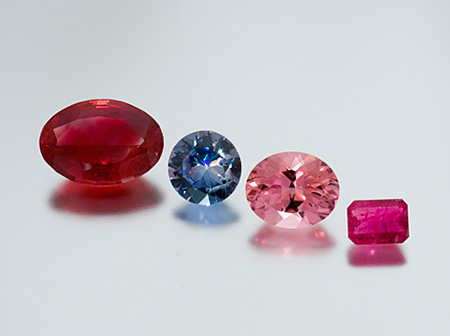 5.30-carat oval sunstone, 14.80 x 10.69 x 5.86 mm.; 2.63‑carat round benitoite, 8.79 x 4.68 mm.; 3.44-carat oval pink tourmaline, 11 x 9.1 x 5.8 mm., and 0.75-carat red beryl 7.12 x 5.26 x 2.62 mm. (Photo: Jason Stephenson)
In Southern California, the Himalaya Mine tourmaline still has a presence, with all the stockpiles left in our safes here at Pala. Occasionally, pink tourmalines are still found in the surrounding mines, but the quality and quantity seem to be limited. The 3.44-carat pictured above is one of the cleanest and most pure pinks we have left.
Red beryl is another gem that seems to be out of production for now, but luckily we still see a few of these intense red jewels bubble up now and again. The Violet claim, in the Wah Wah Mountains of Utah, produced the most red beryl, including this little 0.75-carat beauty.
And speaking of red beryl, loyal readers may recall our featured stone from May 2008. It's back in stock.
Interested? Call or email us to inquire. [back to top]
---
March 16, 2010: Spinel from Tajikistan
We have been reporting on the new electric pink spinels coming out of Tanzania, and the superb reds still trickling out of Burma, but the most historical spinel deposit in the Pamir mountains of Tajikastan has been producing some beautiful large stones recently as well. Originally coined the Balas Ruby, which was later tested to be spinel, this was the material that has adorned some states' royal crown jewels. Even recently we have seen rosy reds and pastel pinks still being mined from this region. This month's monster 22.76-carat spinel is quite unusual for its size and rich, rosy red color. A wonderful collector's piece to complete a worldwide spinel locality assemblage.
#11669. (Photo: Jason Stephenson)
A 22.76-carat spinel from Tajikistan, 18.54 x 14.55 x 11.47 mm. Inventory
This beautiful and gemological gem would probably be a pick of the late Dr. Eduard J. Gübelin. He loved to collect gems that were not only attractive on the outside, but also intriguing on the inside. A photomicrograph of this extraordinary spinel from Tajikistan reveals a beautiful suite of natural inclusions. Taking a tour of this inner world, we note the well-formed octahedron just left of center; probably a negative crystal formed as a result of exsolution during the spinel's growth. The large crystal seen just right of center appears to be an apatite crystal, while many of the smaller rounded nodules scattered to the left and lower left are probably more sub-euhedral apatites. The intriguing guest mineral emerging into the light at lower left, hints at being quartz, another fascinating inclusion to be found in spinel.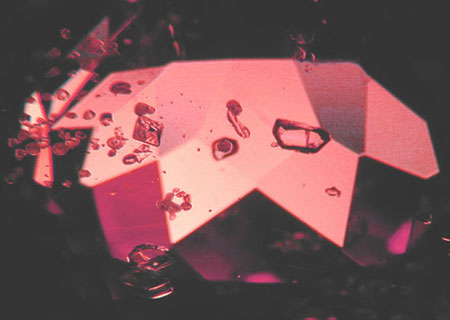 The internal world of this month's featured gemstone. (Photo: Jason Stephenson)
Search the entire inventory of spinels on Palagems.com.
Interested? Select the inventory number above, call, or email us to inquire. [back to top]
---
February 21, 2010: Prase Opal From Tanzania
This month we feature prase opal from some recently unearthed veins on Mount Iyobo in central Tanzania. Prase opal is a nickel-bearing variety of common opal, with nickel being the chromophore that illuminates the neon bluish-green hue. Chrysoprase and prase opal can be similar in appearance but can easily by separated by varying RI and SG. Both varieties range from low-quality opaque material to high-quality translucent jewels; however, the prase opal tends to be more translucent and gemmy. Pala International just recently purchased some of the fascinating prase opal rough while at this year's Tucson show.
A glowing prase opal cabochon showing the most pure and intense color; 11.80 carats, 16 x 12.6 x 9 mm. Price available upon request. (Photo: Jason Stephenson)
Chrysoprase and prase opal have been mined on Iyobo Mountain in central Tanzania for more than 20 years, with the first accounts being described by Gübelin in 1975. The most recent discovery revealed some of the most intense and beautiful bluish green material to be seen by the gem trade. The majority of the production is in the chrysoprase form, while the prase opal is the more rare find from this deposit. Chrysoprase and prase opal both form in discontinuous veins within metamorphosed ultramafic rocks with the most dominant host rock being altered serpentine.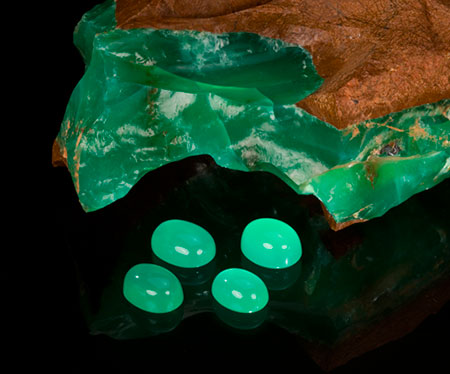 An assortment of the prase opal cabs with a chunk of rough showing the gem vein and the surrounding matrix. (Photo: Jason Stephenson)
See "Chrysoprase and Prase Opal from Haneti, Central Tanzania," by James E. Shigley, Brendan M. Laurs, and Nathan D. Renfro, in the current issue of Gems & Gemology.
Interested? Call or email us to inquire. [back to top]
---
January 4, 2010: Burmese Red Spinel
This month we feature a Burmese red spinel with a single octahedral crystal, in conjunction with the theme of this year's Tucson Gem and Mineral Show: gem crystals. As the world opens its eyes to new gem varieties, spinel is standing at the front of the line, intense and beautiful. Nothing better than a good ol' fashioned flame-red spinel. This spinel exhibits the best Burma has to offer, with a slightly orangey red hue, high saturation, and a pleasing cushion cut.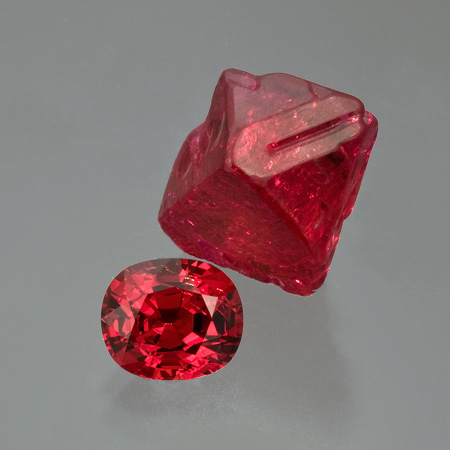 Inventory #16655. (Photo: Mia Dixon)
2.24-carat Burmese faceted red spinel, 8.3 x 7 x 5.1 mm,, with 15-carat Burmese spinel crystal, 17 x 12 x 10.5 mm.
As we see many deposits producing fine spinels these days, with Tanzania, Tajikistan, Vietnam, Madagascar, and Sri Lanka, to name a few, nothing quite compares to some of the rich reds that are produced in Burma.
Interested? Select the inventory number above, call, or email us to inquire. [back to top]
---
Pala International's Featured Stones – 2009
Featured in Pala's Gem News. See 2005–2008 Featured Stones here.
December 16, 2009: Spessartite Suite
This month Pala features what has become a rare commodity in the colored stone world: a large, fine spessartite suite consisting of 17 well-matched mandarin colored garnets. This set graduates from 8 x 7 mm. ovals to 12 x 10 mm. ovals, which are set off by a pear-shaped center stone measuring 14.6 x 12.5 mm.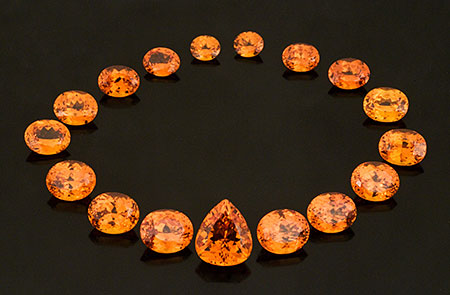 #16390. (Photo: Mia Dixon)
Inventory
Larger spessartites with exemplary orange color such as these have become increasingly rare as the inventory of fine Nigerian material disseminates amongst connoisseurs. With the deposit in Nigeria being out of production for a few years now, and the new Tanzanian material being heavily included and found in smaller sizes, the supply chain has been cut off. This colorful suite may be one of the last great assemblages of the fine material we have all come to know and love from Nigeria.
Interested? Select the inventory number above, call, or email us to inquire. See also our Spessartite Buying Guide. [back to top]
---
November 18, 2009: Topaz
This month we thought we would follow the birthstone trail and take a closer look at some of the colors within the topaz family for the month of November.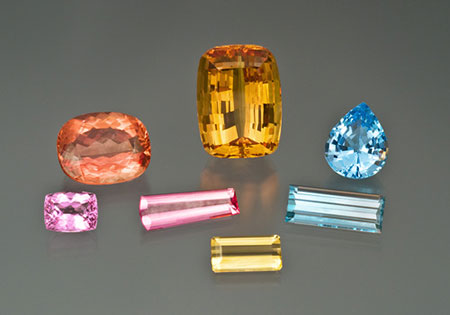 #17535), imperial cushion 22.49 cts. (Inventory #17513), rose tapered emerald cut 4.76 cts. (sold), golden cushion 53.80 cts. (Inventory #1643), yellow emerald cut 4.11 cts. (Inventory #5070), light blue emerald cut 9.76 cts. (Inventory #8679), blue pear shape 10.74 cts. (not inventoried). (Photo: Mia Dixon)
Pink cushion 4.97 cts. (Inventory
From the irradiated blues to the precious pinks, topaz can be an economical source of color for a neophyte, or a prize for the advanced collector. All the controversy of irradiated blues has surely softened that market, but many people are still enticed by the neon blue hues. Imperial topaz from the golden to red hues still are exclusive to a few mines in the Minas Gerais region of Brazil. As the supply seems fairly low but steady, and the demand keeps rising, it's harder to match stones with collectors, causing prices to continue their ascent.
And if we refer to Kensho Okamoto's table, listed here, we find that the topaz family helps to calm down, and cheer up, the mind. We all could use a taste of that medicine.
Interested? Select the inventory numbers above, call, or email us to inquire. [back to top]
---
October 19, 2009: Phenomenal Gems
This month we feature two truly phenomenal gems.
As our curiosity for the natural wonders of the gem world matures we seem to appreciate truly fine phenomenal more and more. When the unique properties line up to create a show of light and color, we are mystified and enthralled by their beauty. As scientists we wonder how the conditions culminated and what elements coalesced to produce such a colorful and symmetrical gem: the right and left brain blending to an immaculate perception of these interactive jewels.
Burmese star ruby
This jewel combines the best properties one can expect from a star ruby. This stone, which features a truly pigeon's-blood-red body color and a sharp, well-defined star, is from the Mogok Valley of Burma. It appears as a deep red gem under normal lighting conditions, but when hit by a ray of sun it comes alive.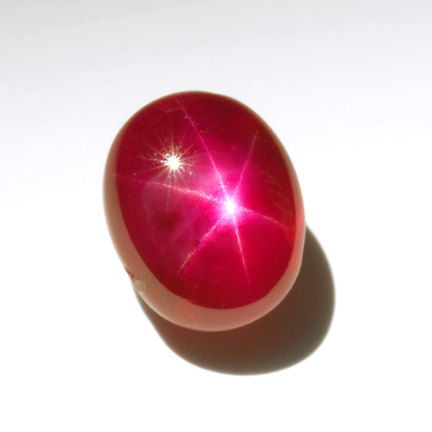 #16647, 5.18-carat oval cut, 9.82 x 7.92 x 5.87 mm. (Photo: Wimon Manorotkul)
Inventory
Cat's eye chrysoberyl
The second featured stone not only has a distinct eye but the body color glows a warm, golden lime hue. This jewel also exhibits the milk-and-honey effect, and can wink as well. We believe this chrysoberyl comes from the Arusha region in northeastern Tanzania because of its unique electric lime body color and its velvety appearance, but it may be of Sri Lankan origin.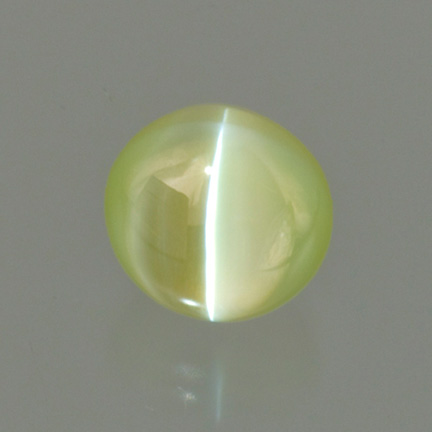 Above, a single light source illuminates the sharp, centered eye with a hint of the milk-and-honey effect. Below, the eye will open and close as two light sources are used, keeping one stationary while rolling the other perpendicular to the eye. A fun trick for any gem lover. Round, 13.25 carats, 12.75 x 7.89 mm. Price upon request. (Photos: Jason Stephenson)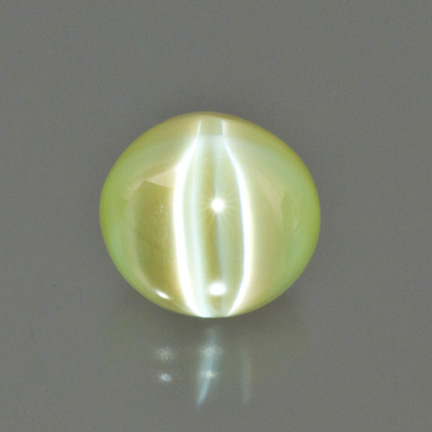 Interested? Call or email us to inquire. [back to top]
---
September 15, 2009: Red Zircon from Tanzania
This month we had a power struggle amongst contenders for Pala's featured gemstone. The victor was a late entry, but it easily eclipsed the competiion. We are pleased to present for September a substantial (not the least due to its weight of 152.47 carats), purportedly-natural red zircon from Tanzania.
Bill Larson gives us the background:
This is the largest fine red zircon I have ever seen. It is said to be from newly mined material in Tanzania and unenhanced. But note: Pala has not certified this gem with GIA yet. It was shown directly from a master Thai cutter through a friendly, serious gem dealer in Bangkok before he had even purchased the gem. We did an immediate negotiation, and Pala owns said gemstone.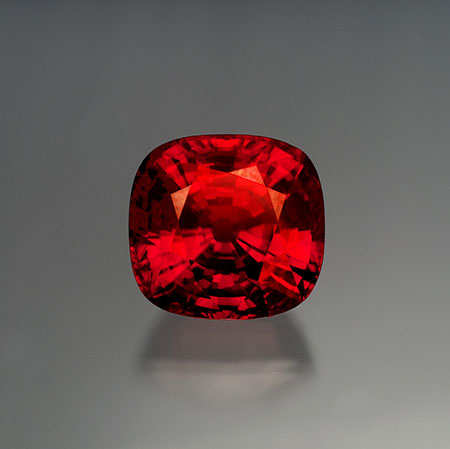 Orangy-red zircon from Tanzania, 152.47 carats, 26.1 x 25.9 x 20.1 mm. (Photo: MIa Dixon)
In the sun this zircon glows like a red coal. A slight orange secondary color makes it superbly beautiful. In artificial light it glows red. This is a museum-quality gem.
Interested? Call or email us to inquire. [back to top]
---
August 19, 2009: Chrysocolla Suite
This month we feature a stunning suite of chrysocolla from the Globe Hills of Arizona. This neon-blue gem silica is reminiscent of a paraiba color due in part once again to the presence of copper. These stones feature a beautiful, even Caribbean-blue color with a few subtle clear veins running through the material. Cabochons were cut from same piece of rough so the 11-piece set has uniform color and sets up nicely for a necklace layout.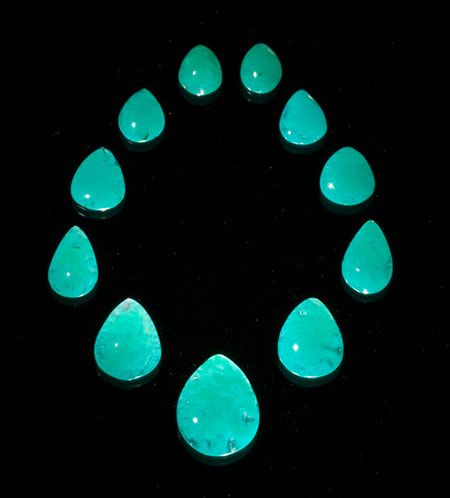 Inventory #17488. (Photo: Jason Stephenson)
11 pieces with a total weight of 34.68 carats, ranging in size from 11 x 8 to 15 x 21 mm.
The suite was carved by San Diego artist Bud Standley, who now has a studio in Balboa Park's Spanish Village Art Center.
Below is a piece of rough chrysocolla, also from the Globe district in Arizona, displaying the electric blue hue and a layer of druse covering some of the botryoidal formations.
Interested? Select the inventory numbers above, call, or email us to inquire. [back to top]
---
July 16, 2009: New Dawn of Demantoids
This month we feature an exquisite new demantoid garnet from Russia. This 3.51-carat jewel has a succulent green hue, medium tone, and full saturation. Inside, we find a fine example of the diagnostic horsetail inclusion.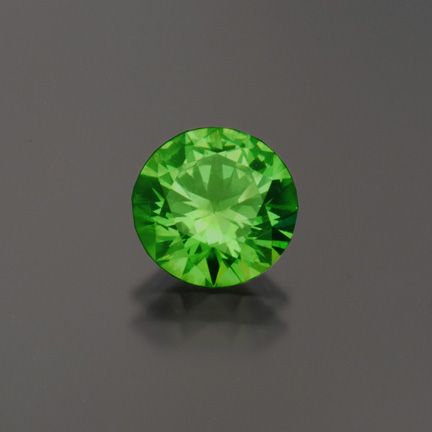 , above, 3.51 carats, dimensions 9.38 x 5.8 mm. Below, the same demantoid under different lighting conditions, bringing out the phenomenal dispersion from within. (Photos: Above, Mia Dixon; Below, Jason Stephenson)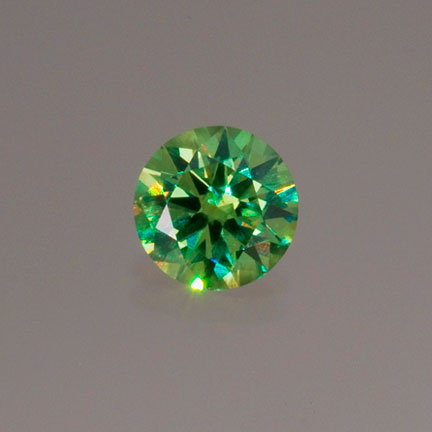 Recent mining ventures in Russia have begun to produce new demantoid garnet material. Pala is once again involved with distribution and we have a fine selection to offer. Extremely saturated greens in all shapes and sizes, many with superb examples of horsetails and some other intriguing inclusions.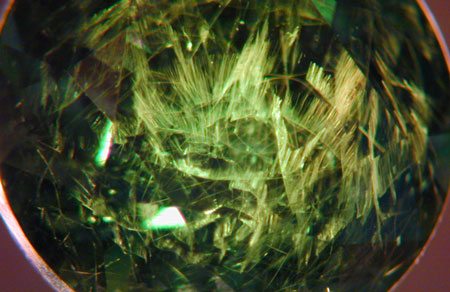 The aurora-like inclusions above are actually interwoven bands of horsetails. This is from a 2.33-carat round, 7.3 x 5.0 mm. (not from our featured gemstone). (Photomicrograph: Jason Stephenson)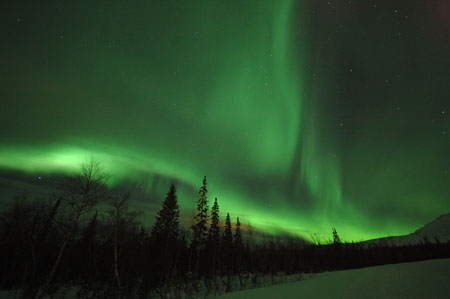 Some of these quiescent internal formations seem to resemble other active formations on a grander scale. The radiating horsetail spray with a definable core resembles an exploding firework. The interwoven bands of horsetails are reminiscent of the liquidity and beauty of the aurora borealis.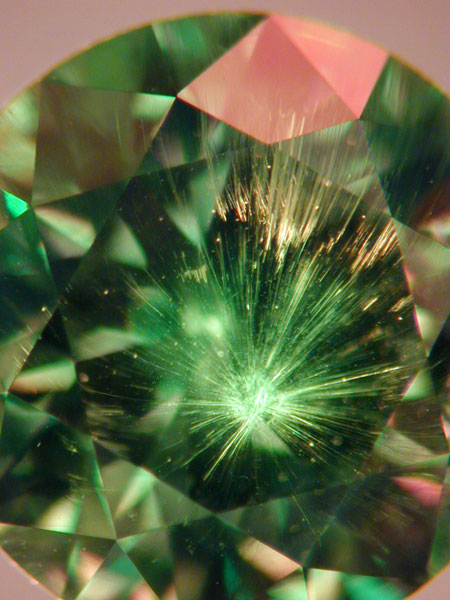 An inclusion mimics a firework spray. From a 1.21-carat round, 6.0 x 4.0 mm. (Photomicrograph: Jason Stephenson)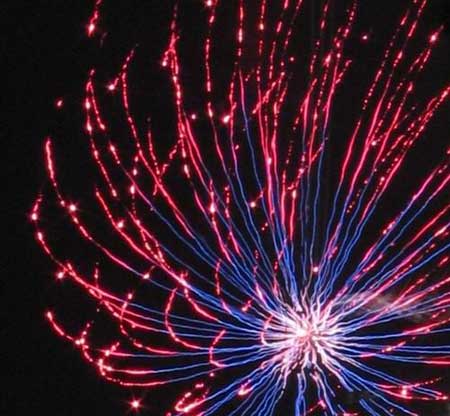 These micro to macro associations gives us a little insight into the complex dynamics that are at work during crystallization of these demantoid garnets. Heat, pressure, and chemistry meet in a unique situation in time and space. Beauty is found on many scales.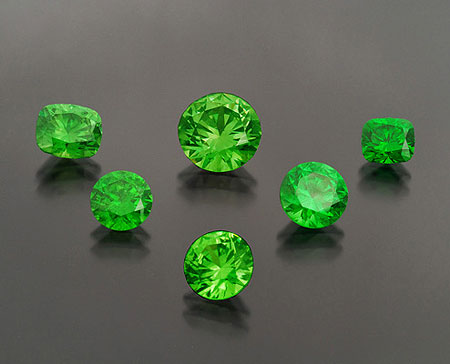 , (clockwise from left) 1.97 carats, 7.46 x 6.25 mm.; 3.51 carats, 9.38 x 9.38 mm.; 1.15 carats, 6.07 x 5.44 mm.; 1.28 carats, 6.68 x 6.68 mm.; 1.98 carats, 7.41 x 7.41 mm.; 1.73 carats, 7.23 x 7.23 mm. (Photo: Mia Dixon)
Interested? Select call or email us to inquire.

See this new page on Palagems.com:
For other information on demantoid garnet:
[back to top]
---
June 23, 2009: Sunstone from Tanzania
This month we feature a mesmerizing sunstone from Tanzania. This unique variety of feldspar requires a closer look as flashes of spectral colors come firing out of the stone. Geometric platelets fill the inside of this jewel like confetti at a tickertape parade or looking into an active psychedelic snow globe.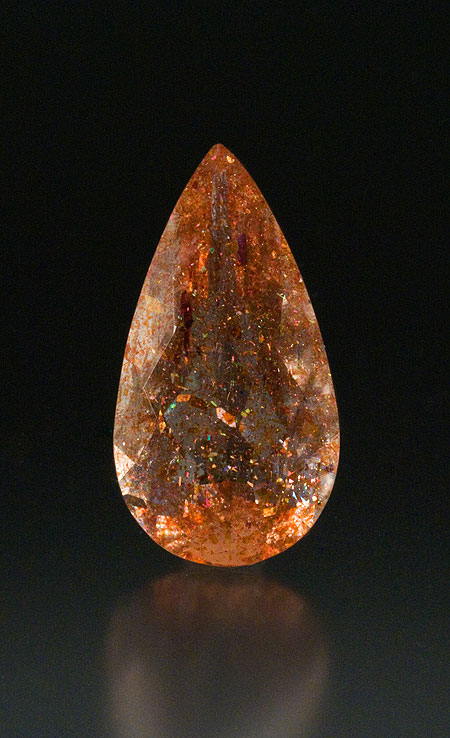 #17383. (Photo: Mia Dixon)
, Arusha Region, 20.37 carats, 29 x 15.3 x 8.9 mm. Inventory
These randomly oriented inclusions are hematite platelets, a product of exsolution, and exhibit a rainbow of interference colors as the light passes through at different angles. The hematite platelets display mainly a reddish orange hue, which gives this stone its warm body color. This beautiful gemstone would work well in a designer pendant or simply as a collector's stone demonstrating these unusual internal characteristics.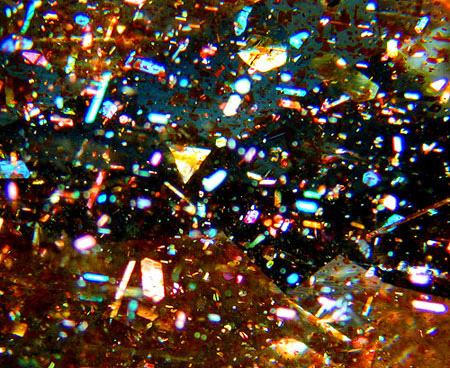 Photomicrograph showing the illuminated hematite platelets. (Photo: Jason Stephenson)
Interested? Select Inventory #17383, call, or email us to inquire.
See also this February 2005 article, "On the Horizon: In search of East Africa's eye-catching Maasai sunstone," from Lapidary Journal Jewelry Artist. [back to top]
---
May 21, 2009: World-Class Lavender Hackmanite
A phenomenal variety of sodalite and a member of the feldspathoid group, hackmanite is mostly found in a translucent cabochon form. This month we feature a transparent faceted hackmanite from Afghanistan. This gem is near-flawless and exhibits all the unusual optical characteristics associated with hackmanite.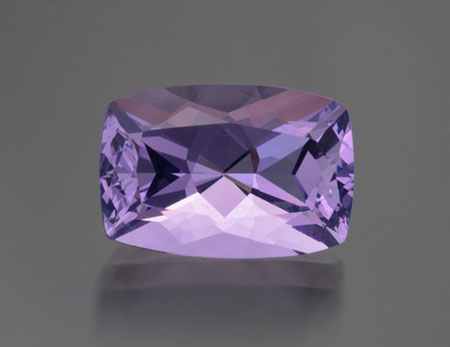 This stone has been sold. (Photo: Mia Dixon)
from Afghanistan, 7.87 carats, 16.28 x 11.08 x 8.64 mm.
Hackmanite is known for its unique color-shift phenomenon when subjected to warm white light or daylight. The phenomenon is known as tenebrescence. Hackmanite will often increase in saturation when allowed to be "charged up" in daylight and sometimes shifts between lavender and magenta hues. Long-wave ultraviolet light also brings out an amazing fluorescence, as seen directly below; in this case we see a glowing orange/yellow hue. The distinctive color phenomena are derived from the sulphur component in hackmanite's chemistry. Light can polymerize the sulphur into different-length molecules and ions that, in turn, have different colors. (Thanks to Dr. George R. Rossman for clarification of the color phenomena science. See this Caltech webpage for more on the sodalite group.)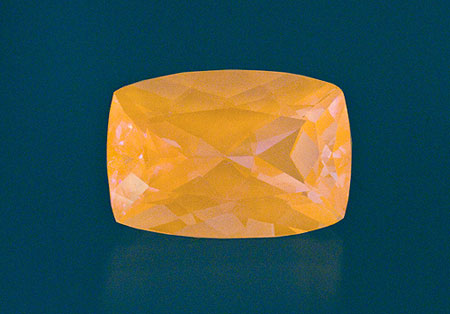 Long-wave ultraviolet light shows off the fluorescence of this hackmanite. (Photo: Mia Dixon)
An amazing feature that is illuminated by the unusual optics of this stone is seen when a beam of long-wave UV light is shot through the table. You can actually see the refraction of light as it travels though the stone: entering the table, bouncing off the pavilion, and traveling back out the table. A living example of all the diagrams you've seen drawn with stick figures in gem books. Like a laser through smoke the path of light is captured by the internal structure of the gem, and highlighted by the facets and form of this hackmanite.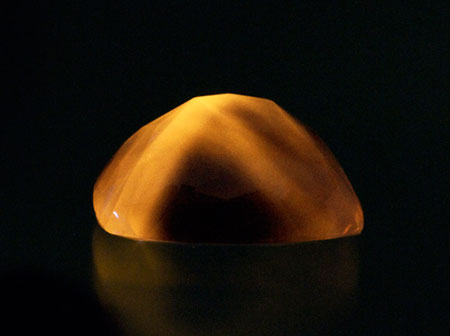 A beam of long-wave ultraviolet light demonstrates the refraction path. (Photo: Mia Dixon)
Interested in something similar? Call, or email us to inquire. [back to top]
---
April 16, 2009: Aqua-marine
This month we feature a dazzling aquamarine. In the gem trade aquamarine most often refers to the blue variety of beryl, but the first element of this compound word actually implies some green. Even Webster's Dictionary defines aqua as "a light greenish blue color." Today most pure-blue aquamarines are heated from greenish blue rough; the heated process removes the secondary green hue and leaves only the blue hue.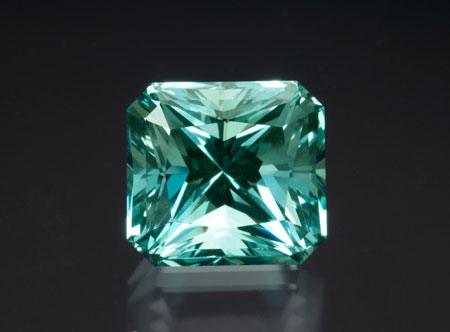 A flawless 22-carat
with an exquisite radiant-style faceting. This stone has been sold. (Photo: MIa Dixon)
Our featured aquamarine exhibits the beautiful blend of blue and green in its natural state. It's reminiscent of open ocean water, which is of course implied by the second element of the word: marine. Major producers of gem-quality aquamarine today are Brazil, China, and several countries in Africa.
Interested? Select Inventory #15579, call, or email us to inquire. [back to top]
---
March 18, 2009: Bi-Color Topaz
A new look at an exceptional gemstone
This month's featured stone comes to us from Brazil and is precious and imperial in many ways.
When we're talking about topaz, imperial is a descriptive term for golden orangey-yellow hues, and precious is usually reserved for the more pink-red hues. However, these terms can, and often are, used interchangeably by gem dealers. Exceptional colors like these are only found near the town of Ouro Preto within in the state of Minas Gerais in Brazil.
The top half of the stone exhibits the classic golden color, while the bottom seems to collect all the rich rosy pink color. This combination of color is extremely rare to find within the same stone—not to mention a flawless interior. And the origin of color in this jewel is natural; the original crystal actually exhibited these two distinct hues. (Oftentimes rich imperial colors can be heated to produce the pinkish hues.) A true collector's gem fashioned to fit nicely into a one-of-a-kind pendant.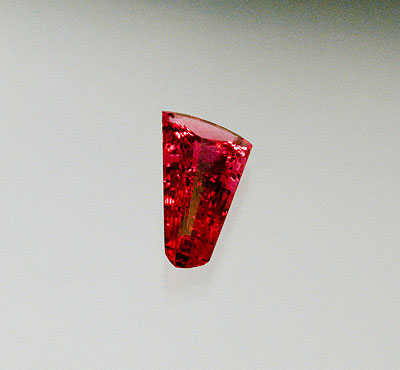 Oblique angle of the topaz showing the fire within. Savvy readers may recall this stone accompanying a Gem News story last October; we thought it deserved a second look… (Photo: Jason Stephenson)
Interested? Select Inventory #15507, call, or email us to inquire. [back to top]
---
February 25, 2009: From the Rough
An assortment of newly acquired gems that were bought
in the rough at this year's Tucson show
One fun and curious aspect of the Tucson show is the chance to roll the dice and buy rough crystals of various colored stones in hopes that they will morph into beautiful gems. Evaluating the rough and trying to imagine what the finished stone will look like can be enjoyable. There's always a gamble when buying rough gem material, but the payout can be surprising and rewarding.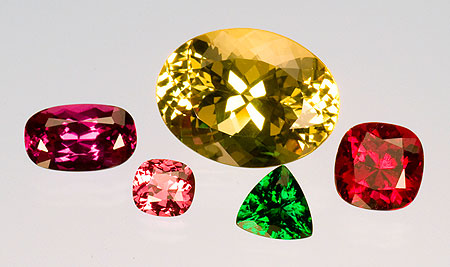 All five of this month's featured gemstones came from unfaceted material obtained by Pala International at this month's Tucson show. (Photo: Jason Stephenson)
This month we feature a few jewels that came from the rough and into the light as happy, newborn jewels. A 36.67-carat large oval greenish-yellow apatite from Mexico, a 7.57-carat elongated cushion umbalite garnet from Tanzania, a 1.91-carat small cushion pinkish red spinel from Tanzania, a 2.80-carat trilliant chrome tourmaline from Tanzania, and a 6.42-carat cushion rubellite tourmaline from Nigeria.
Interested? Call or email us to inquire. [back to top]
---
January 19, 2009: Rhodochrosite from a New Locality
Pala International obtained a parcel of rough rhodochrosite at November's West Coast Gem & Mineral Show in Costa Mesa, from a locality that has yet to be confirmed. We will keep you posted as the mystery of origin unfolds.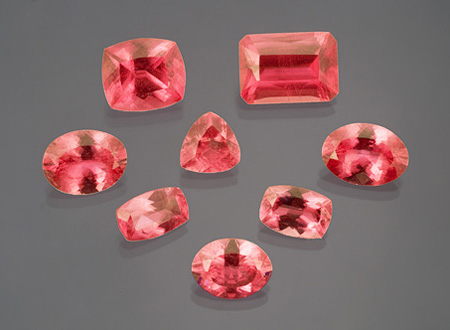 Selection of the
; sizes ranging from 2.5 to 10.5 carats. (Photo: Mia Dixon)
The material is the classic, beautiful pinkish-red hue, with more peach or orange secondary than some of the other rhodochrosite localities. Reminiscent of a padparadscha sapphire, with a pleasing blend of colors and a fluorescent glow. There are several localities around the world that produce rhodochrosite mineral specimens but there are really only two that produce facetable rough in quantity and quality: the Kalahari manganese fields of South Africa, and the Alma District of Park County in Colorado.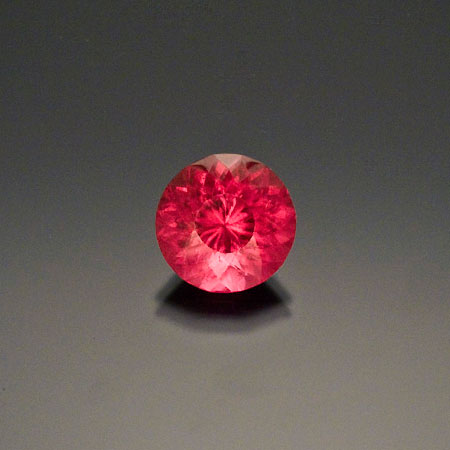 Here is a fine example of what Colorado can produce: This stone has been sold. (Photo: Jason Stephenson)
16.8 mm in diameter.
Displaying these three examples, you can see the unique variations of red produced by each deposit. Production from South Africa and Colorado is extremely limited; however, the new material is available now.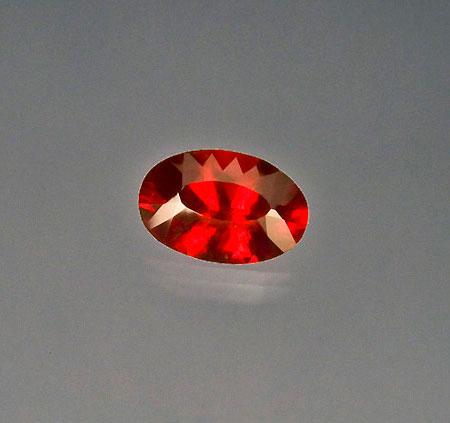 Another example of a
: 16.27-carat oval brilliant, 20.21 x 13.41 mm. From the Gladnick collection. (Photo: Jason Stephenson)
Interested? Call or email us to inquire. [back to top]
---
See other: