Birthstones
Sri Lankan and Butter-Krust Make Interesting Breadfellows
With Pala Presents, we offer selections from the library of Pala International's Bill Larson, who shares with us some of the wealth of information in the realm of gems and gemology. The following text, "Know Your Gems" by Sardha Ratnavira, appeared in the August 4, 1965 edition of the Mirror, origin unknown. Ratnavira is the father of artist Gamini Ratnavira and was the first Asian to qualify at the Gemological Institute of America, in 1937–1938, when it was still in Los Angeles.
THE belief in the magical and mysterious powers possessed by certain precious stones can be traced to the earliest records of human life. With the wearing of charms and amulets developed the system of associating special gems with months of the year.
The ancients believed that if a person wore the precious stone which, according to tradition was in affinity with the planets and the month of his birth, he would have protection against enemies, sickness, accidents, love affairs or even death. Precious stones were also supposed to have the power of conferring on their possessors many blessings such as health, wealth, happiness, beauty and honour. They were identified with many religions, some well substantiated in history, others only in legend, but most of them are black with superstition.
Their influence
Gems are connected with astrology, and exert an influence good or evil through the planetary influence on certain days. All stones except diamonds were to be worn on Mondays, Garnets, rubies and other red stones to be worn on Tuesdays—the day of Mars. Turquoise on Wednesday; Amethyst on Thursday; Emeralds on Friday—the day of Venus; Diamonds on Saturday—the day of Saturn; Topaz and other yellow stones on Sunday.
During certain months in which gems were influential under the proper astrological control, they were supposed to have a mystical influence over the twelve parts of the human anatomy. The chart given below shows the correct stone to be used according to the zodiacal control, the period covered by the zodiacal planet.
January 21st to February 21st: Aquarius—GARNET.
February 21st to March 21st: Pisces—AMETHYST.
March 21st to 20th April: Aries—BLOODSTONE.
April 20th to May 21st: Taurus—SAPPHIRE.
May 21st to June 21st: Gemini—AGATE.
June 21st to July 22nd: Cancer—EMERALD.
July 22nd to August 22nd: Leo—ONYX.
August 22nd to September 22nd: Virgo—CARNELIAN.
September 22nd to October 23rd:Libra—CHRYSOLITE.
October 23rd to November 21st: Scorpio—AQUAMARINE.
November 21st to December 21st: Sagittarius—TOPAZ.
December 21st to January 21st: Capricorn—RUBY.
The author of this article, Sardha Ratnavira (fourth from right), graduated in 1940 as a member of GIA's first residence class. Clearly GIA had been dreaming of rubies prior to Ratnavira's arrival. (Photo: Bill Larson collection)
Birth stones
The generally accepted birth-stones are the following: January—Garnet; February—Amethyst; March—Bloodstone or Aquamarine; April—Diamond; May—Emerald: June—Pearl or Moonstone; July—Ruby; August—Sardonyx or Peridot; September—Sapphire; October—Opal or Tourmaline; November—Topaz or Citrine; December—Turquoise or Lapis Lazuli.
Even the twelve Apostles were symbolically represented by precious stones.
St. Peter—JASPER.
St. Andrew—SAPPHIRE.
St. James—CHALCEDONY.
St. John—EMERALD.
St. Philip—SARDONYX.
St. Matthew—AMETHYST.
St. Thomas—BERYL.
St. Thaadeus—CHRYSOPHRASE.
St. James—TOPAZ.
St. Simeon—HYACINTH.
St. Matthias—CHRYSOLITE.
St. Bartholomew—CARNELIAN.
The ancient people believed that every gem seen in a dream had a special meaning. They believed that dreams of precious stones, rings or other ornaments to be of favourable significance for women. Such dreams indicated marriage for unmarried women, and birth of children for those already married. If the gems seen in a dream were red it indicated great joy and good fortune, and if the gems were blue, bad luck.
Significance
A few gems and what they are supposed to signify when seen in a dream:
Agate: a journey; Amber: a voyage; Amethyst: freedom from harm; Aquamarines: new friends; Bloodstones: distressing news; Cat's Eyes: treachery; Chrysoberyls: a time of need; Coral: recovery from illness; Crystal: freedom from enemies; Diamonds: victory over enemies; Emeralds: much to look forward to; Garnets: the solution of a mystery; Jasper: love returned; Jet: sorrow; Lapis Lazuli: faithful love; Moonstones: impending danger; Onyx: a happy marriage; Opals: great possessions; Pearls: faithful friends; Rubies: unexpected guests.
---
Butter-Krust Bread Kollector Kards
Birthstones and Horoscopes
The following images are from a set of collector cards included in loaves of Butter-Krust Bread, likely from the beginning of the twentieth century.
The Butter-Krust Bread was an early 20th century brand franchise that still is sold via the Holsum brand. Butter-Krust and/or its individual franchises used a variety of marketing schemes over the years, including collector cards. A survey of auction sites turned up the following Butter-Krust cards.
1910: Postcards illustrated by cartoonist Clare Victor "Dwig" Dwiggins (1874–1958) on the theme of "Smile…"
1911–1914: Brunners baseball cards, from a Buffalo, New York, Butter-Krust bakery; these cards are highly collectible and can go for several thousands of dollars
1922: Nursery rhyme collector cards
The twelve cards pictured here are notable for their depiction of three themes: 18th century women (January–April), Dutch children (May–August), and colonial-era children (September–December). The verso of each card contains "birthday horoscopes" with each month divided into (roughly) five six-day groups.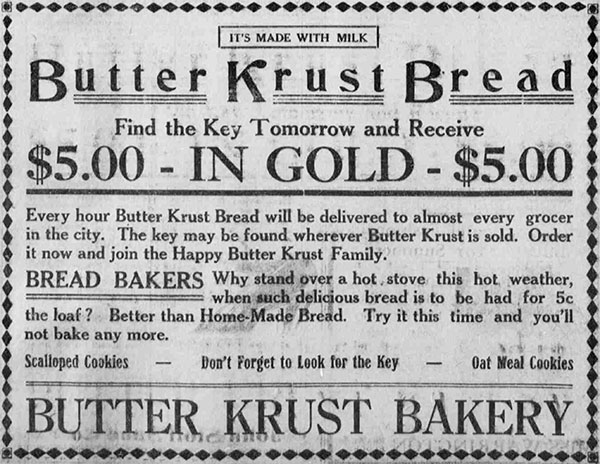 Marion Daily Mirror, May 19, 1911.
Another Butter-Krust marketing ploy, from the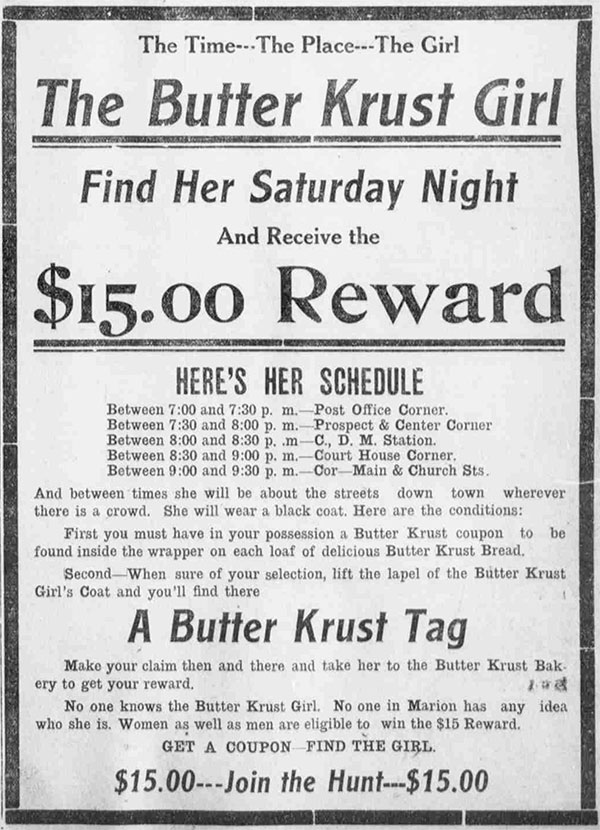 Marion Daily Mirror, February 16, 1912.
Just imagine a bakery in the 21st century trying to get "women as well as men" to accost black-coated girls. From the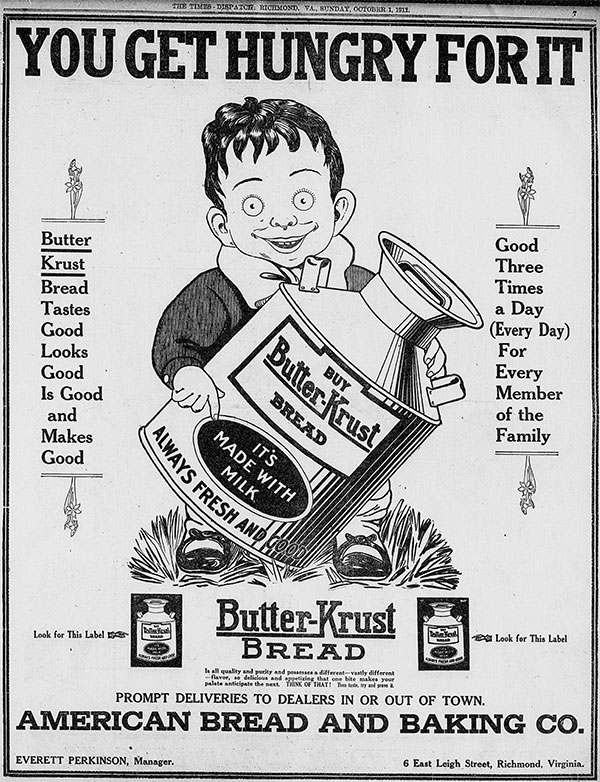 Times Dispatch, October 1, 1911.
Little Orphan Annie wasn't the only button-eyed character in the newspaper. From the Richmond, Virginia,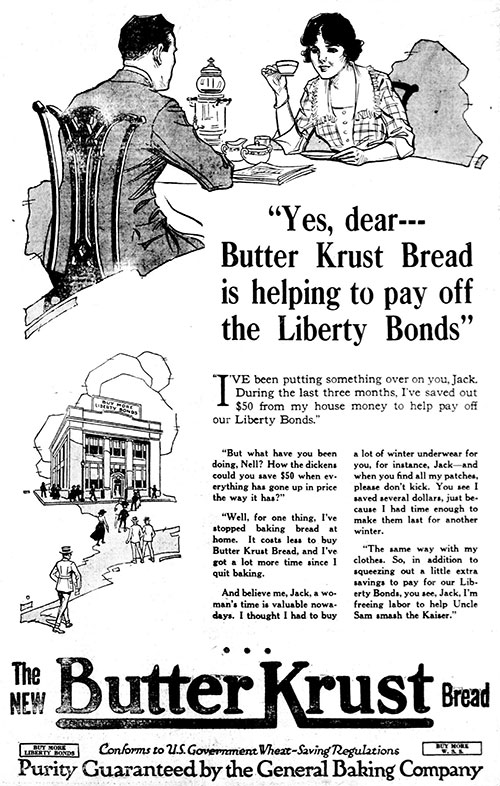 The Washington Herald, September 29, 1918.
You don't get new underwear this winter because I stopped baking bread!" From