The Jardin of Subterranean Delights: Atocha Emerald
The Jardin of Subterranean Delights: Atocha Emerald
Photos and cutting by Meg Berry (except as noted). Berry has a long career as a masterful carver of gemstones; see this 1992 profile on Palagems.com.
The Atocha—the Spanish galleon Nuestra Señora de Atocha—and its vast treasures are famous the world over. Pieces of its haul have landed in the hands of collectors from around the globe. One interesting emerald crystal in particular has made its way from Colombia aboard the Atocha, then sunk in the Gulf of Mexico in 1622, discovered in the deep 363 years later, carried to dry land again, and sold to a collector—finally being given to us to cut and document the cutting process.
As you can see, the crystal began with an intense, slightly bluish-green hue. As with most emeralds the clarity was hindered by the jardin, or garden, of inclusions. The focus of this project was to simply facet the emerald without any other enhancements, leaving the garden exposed, showing its natural beauty.
The process is started by adhering the crystal to the dop stick and pre-forming the basic shape of the gemstone.
Cutting the emerald into a rough shape readies the emerald for the long polishing process.
Starting with a coarse-grain polishing wheel cuts away the faces of the emerald and starts to define where the ultimate facets will be.
Gradually moving from coarse grain to finer and finer grain, the facets become more defined and lustrous.
Ultimately the emerald is buffed with an extremely fine-grain polish that gives the gem its full and lustrous beauty.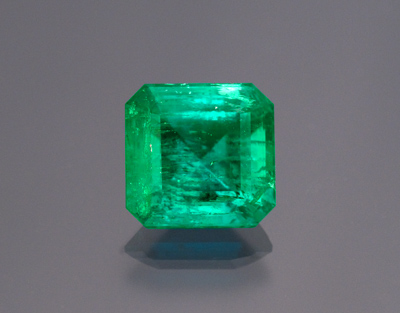 Rough weight 6.79 carats. Cut weight 2.08 carats, 7.92 x 7.66 x 5.47 mm. (Photo: Wimon Manorotkul)