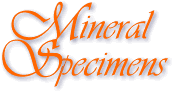 Palaminerals.com is the home to one of the country's finest selections of outstanding mineral specimens. We have literally thousands of pieces in our inventory and every year make several overseas trips to bring back more. Below are some of the highlights:
Mogok minerals – We visit Burma several times each year to bring you the finest in mineral specimens from the famed Mogok Stone Tract, home of the pigeon's blood ruby. This includes ruby, sapphire, spinel, peridot, topaz, tourmaline and others
Himalaya Mine tourmaline – Pala International, our parent company, operated this mine for over 20 years. Thus we have an outstanding inventory of tourmalines from this storied deposit
Tanzanite crystals from Tanzania

Pala Mineralis is our bi-monthly e-bulletin covering news and views from around the world. To subscribe, look for the "Get News" form on every page of Palaminerals.com.

Mineral and mining articles, including