Pala's Gabrièl Mattice Consults for Houston Museum Gem Vault
Pala's Gabrièl Mattice Consults for Houston Museum Gem Vault
Last Thursday (Nov. 9, 2006), Joel A. Bartsch hosted a press-only viewing of The Lester and Sue Smith Gem Vault, the newest permanent exhibition at the Houston Museum of Natural Science. The exhibit, which opens to the public Friday, brings together some of the finest gemstones and jewelry seldom seen in one place.
In attendance was Pala's own Gabrièl Mattice. Mattice, a Graduate Gemologist, has been working closely in the background with Bartsch (who also holds the position of chief curator of the Cullen Hall of Gems and Minerals). For the past three years Gabrièl has been consulted as an advisor in the procurement of this collection, which is based on a core of rare gemstones, 45 carats and above.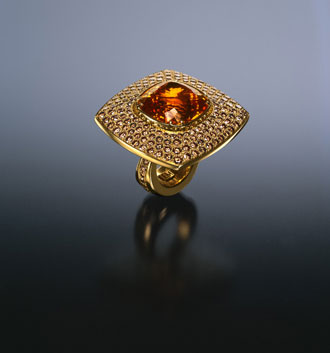 This ring of 18-karat, yellow gold has 39.35 carats of deep orange mandarin garnets and 10.05 carats of pavé cognac diamonds. Designed and created by Ernesto Moreira. (Photo: Thomas R. DuBrock)
Building such a world class collection has involved a painstaking process of discriminating selection, requiring travel between California and Texas on the part of both Mattice and Bartsch. "Joel has kept this project completely under wraps. Even I wasn't able to see every piece until the setup took place the night before," Mattice explained. Secrecy aside, the caliber of the collection is already evident from the few photos of special pieces that have been released. These include the mandarin garnet ring pictured above and the yellow sapphire brooch below, as well as the 62-carat sapphire ring that we included in our October Gem News story on the collection.
Museum president Bartsch, left, with museum board chair Randa Duncan Williams and jewelry designer Ernesto Moreira, at a Gem Vault preview last week. (Photo: Gary Fountain, Houston Chronicle)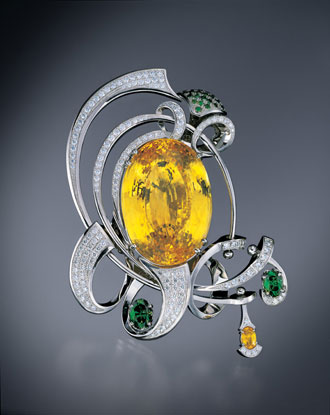 This platinum brooch has a 168-carat, yellow sapphire center stone, a 0.65-carat, yellow sapphire side stone, 3.46 carats of green diamonds and 2.92 carats of pave diamonds. Designed and created by Ernesto Moreira. (Photo: Harold and Erica Van Pelt)
We asked Gabe about her reaction to seeing the gems and jewelry in their new home. "The displays far exceeded my expectations. Each of the pieces appear to be suspended in space. It simply has to be seen."
She enjoyed watching the lucky few who were invited to the event. "It was a real treat for me to experience the delight and inquisitiveness of the visitors who attended this rare preview."
Below are snapshots that Gabe took of a couple of her favorites on the night of the preview.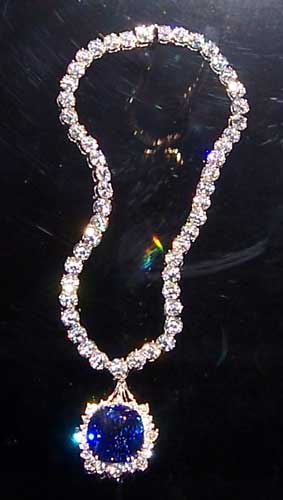 The Sri Lankan sapphire in this necklace weighs over 50 carats. It features beautifully cut and matched diamonds.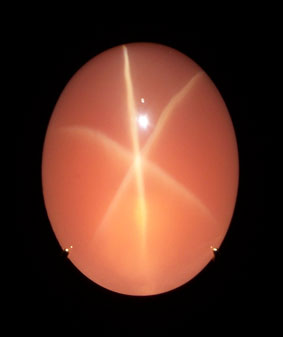 This
("As big as my fist," says Gabe) is over 1,400 carats in weight and hails from Brazil. The eye is sharp and distinct.