California Girls in the City of Lights
by Gabrièl Mattice

If you are a frequent visitor to Palagems.com, you already know that we love working closely with museums. Our website is an ongoing project in which we attempt to educate our readers regarding the many different directions one can go in the gem and mineral business.
Through the years I have become increasingly interested in working closely with various types of collectors, so when I was invited to take a trip to Paris with a couple of my favorite clients, Tony Rosenthal and Ruth Ganister, it was an invitation that couldn't be passed up. The trip was planned for late March through mid-April 2008 and took place on our way to BaselWorld in Switzerland, so the timing was perfect.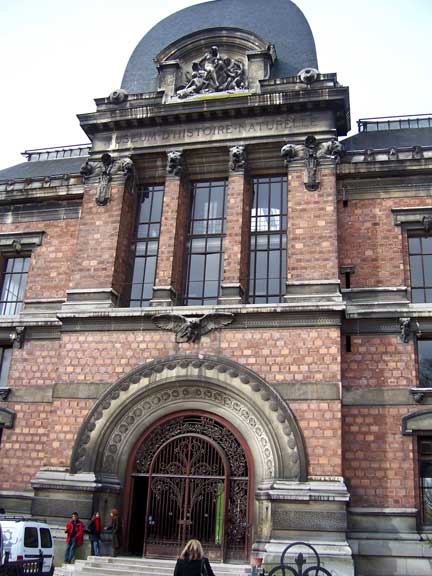 The entrance to the Muséum national d'Histoire naturelle in Paris.
It was only six months earlier that Pala's Bill Larson was in France to receive the highly regarded title of "Chevalier du Tastevin" in the field of "Letters of Science" (see this article) and his ties to the French National Museum of Natural History have been very close for years. Because I wanted to make this trip a special one for us, I decided to talk to Bill about setting up a visit with the museum's chief-curator, François Farges, one of our favorite curators in the business. Bill suggested that we could make our visit even a bit more special by making a donation to the museum's mineral collection.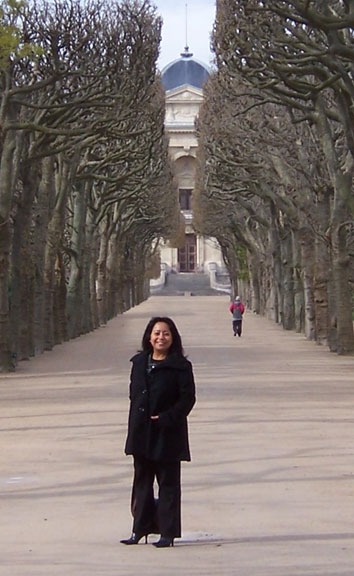 Gabrièl on one of many tree-lined walkways on the museum grounds.
The perfect gift
So what do you give a museum that could have just about anything? …Well, almost everything, it turns out. Within moments of my asking, Bill was pulling stones from a small box inside his own personal safe, with names that I didn't even recognize. "Do you think they would like this?" he would ask. "How about this, and this?"
After about twenty minutes, we had a compiled a great collection of eleven extremely rare stones. "So what do you think?" he said, smiling.
The group of stones was incredible. With great delight we immediately sent a note off to François, who responded back with great excitement that he would arrange a lovely visit with the museum director and an opportunity to formally present the gift directly to him.
Business and pleasure
Flying to Paris on March 25, Kate Donovan (of The Collector Fine Jewelry) and I spent a couple of days getting acquainted with the city and sharing a fantastic evening of wine, cheese, bread, and music with my friend Olivier Galibert. Two days later, Tony and Ruth flew in, and one day later, Jeanne Larson, Executive Director of The Collector Fine Jewelry. After another day of sightseeing it was, alas, time to get down to work…if you want to call this work.
On April 2, we arrived at the incredible museum complex of the Jardin des Plantes, home of the Muséum national d'Histoire naturelle. The setting is amazing with its long, grand walkways and perfectly groomed grounds.
A chill in the air didn't take away the smile of Kate Donovan, who stands on the grounds of the budding Jardin des Plantes. Some museum buildings date back to the late 1700s.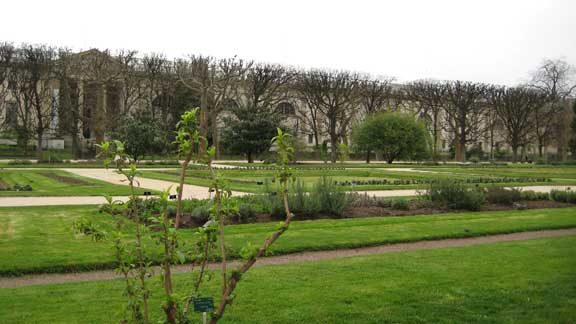 After a few hugs and greetings, François introduced us to his Chief of Security. You see, we were visiting the museum on a day that is normally closed to the public. This was a very private tour.
After our walk through the hall of minerals and gems, Tony and Ruth, who are dedicated supporters to the preservation of all things rare, announced that they would like to make a donation to the museum's collection of gemstones. Their offering was an incredible 35-carat "gem" opal—and quite a surprise to François. The museum had not obtained one yet. It was a great hit!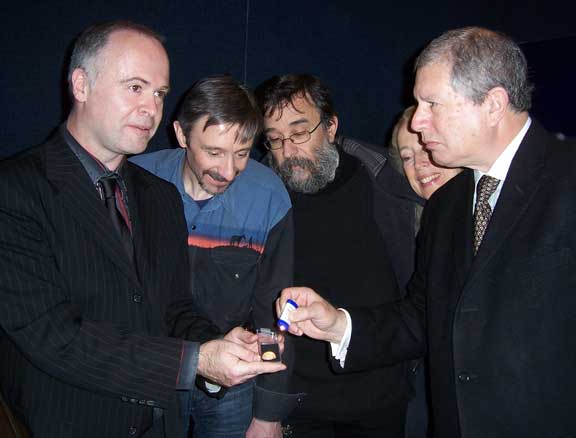 François Farges (left), Jean-Marc Fourcault, and Gabriel Carlier, take in the beauty of the amazing 35-carat gem opal donated by Ruth Ganister and Tony Rosenthal (right).
After walking through the grounds to lunch, we came upon the darling boutique-type bistro where François had planned for us to meet the executive director of the museum, Pierre-Bertrand Galey.
After presenting him with our stones, he was very appreciative and interested in the variety of unusual stones we had chosen. As we chatted, director of collections Michel Guiraud mentioned to the executive director that the man responsible for the donation was a Chevalier du Tastevin as well. "To the brotherhood of Chevaliers and to my brother, Bill Larson!" Galey toasted. "He is here within these dancing bubbles!"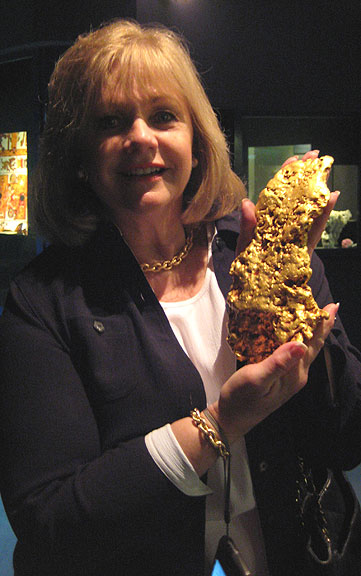 Jeanne Larson displays a gold specimen from the museum's mineral collection.
We then went through each stone explaining its significance. A few of the rarities presented were:
A painite, from Burma
A bastnaesite, from Pakistan
Two colors of johachidolite, from Burma
I told you they were unusual!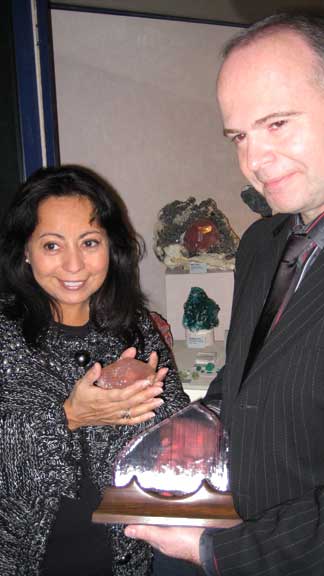 this virtual gallery.
François and Gabrièl explore the museum's extensive American collection. Much of the museum's collection is available for browsing in
A fantastic lunch of sea bass and champagne was served. We discussed the positive directions the museum will be taking in the near future, and I offered Pala's support in any way they needed.
A private tour
After our lovely lunch we were treated to a very private, behind-the-scenes tour of the various museums and their collections—mineral and otherwise—beholding the many rare treasures within their walls.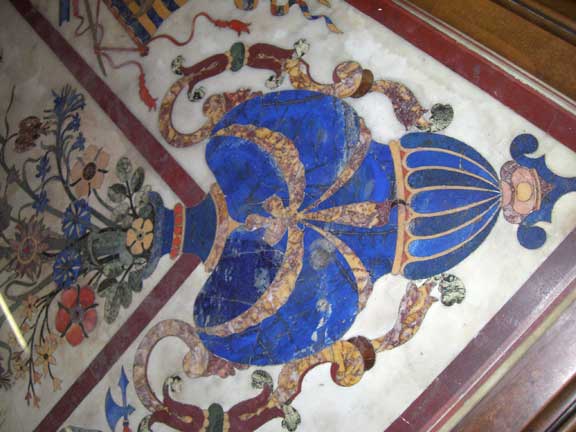 This amazing inlaid table belonged to Marie Antoinette; now in the care of the National Museum of Natural History.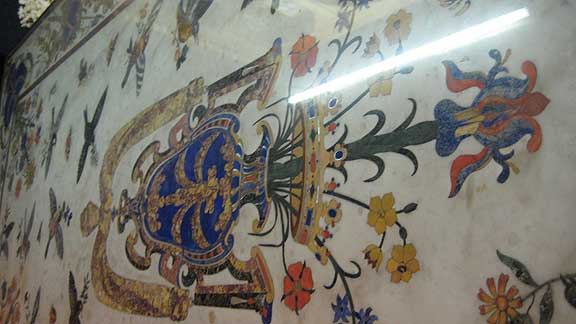 Some of my favorites were Marie Antoinette's personal dining table with inlayed pearl, jade, coral and more; the divinatory obsidian "smoking mirror" of Montezuma II; and François's own favorite, "The Hall of Endangered Species," which is a particularly important cause to him.
When the time came for us to leave, we felt that the hours flew by much too quickly.
Niches in the cabinet of the royal apothecary under Louis XIV. The bottles contain different gemstone materials, which were felt to have healing properties.
I was energized and much more educated as to François's fervent intention to continue gathering up, collecting, and preserving the things in this world that are precious for future generations to come. With his sincerest invitation to return as soon as possible, I know I will be back again soon.
So upon your next visit to Paris, when planning to see the Louvre, the Eiffel Tower, and those amazing pastry and coffee shops, do be certain to include a day at the Natural History Museum in the Jardin des Plantes.
Getting and giving
To me, collecting is not just an excuse to hoard. It's a testimony to cultures and mores of the time. I encourage everyone to become enthusiastic about collecting something—anything—and then hand it down. You will ignite the interest in children to do the same.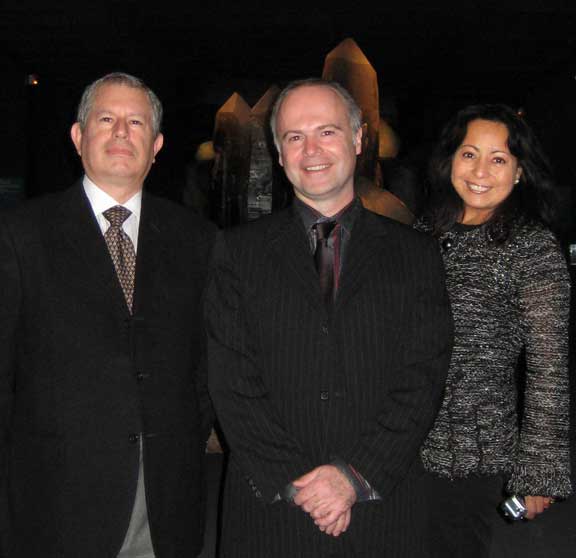 Donor Tony Rosenthal (left), François Farges, and Gabrièl Mattice take a moment for a happy photo.
If you would like to discuss more about building your own collection or how we can
facilitate a museum donation, please give us a call at 800-854-1598 or contact us
via e-mail.